Updated: MSNBC goes HD with new look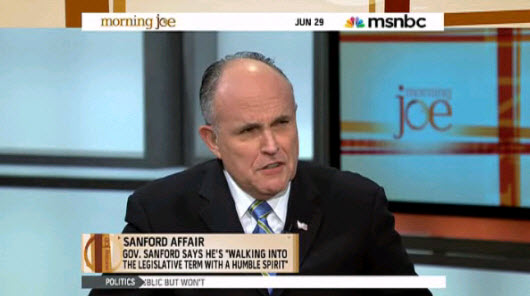 MSNBC took the wraps off its new HD look Monday morning after testing them Sunday. The new look includes a clean looked similar to those seen at European networks.
Earlier this year, MSNBC updated its graphics to a red, yellow and blue theme but stuck with the same look and feel of angled polygons.
More images and commentary after the jump.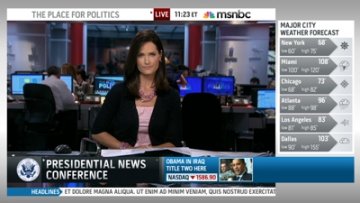 But that look is gone and replaced with a simplified, clean and modern design.
One of the most significant changes is relocating to the live bug, MSNBC logo and time to the top of the screen, a departure from what other cable news channels are doing. It does, however, mimic the black bar and MSNBC logo that has been seen during documentary programming on the channel.
Another big change is that the old MSNBC logo seems to be gone and replaced with the one being used on the MSNBC.com Web site since its redesign. We've complained often in this blog about the mismatched logos being on-air and online, so hopefully this marks the end of that.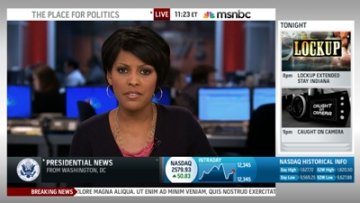 MSNBC has opted to use the extra screen real estate for adding information such as weather forecasts and show promos, similar to the approach of CNBC HD. Update: However, programming will go full 16:9 during evening programming and also appeared to be full width during at least some of Morning Joe.
While some may lament the lack of additional picture real estate, I personally like this approach and would like to see it used more often, especially at the local level. After all, does showing a little more video on each side really add much to the broadcast (especially when so much taped footage still has to be framed with HD wings).
That said, some viewers will no doubt dislike the added clutter. However, MSNBC has done a good job of balancing the added graphical boxes and other elements with a clean, simple look for an overall design that isn't overwhelming.
I'm glad to see the angled polygons gone. While they did add a unique touch to the graphics, they were often seemed awkward to work with from a design standpoint. It also seemed like it would be challenging to ensure lower thirds fit within the unconventional shape.
The new lower thirds are now divided into two "columns", allowing for a large label to the left and additional related or un-related information to the right, another nice touch that makes good use of screen space.
The ticker remains with the new look, but switched to a white background with black text. An arrow-shaped label can switch between blue for normal headlines and red for breaking news.