MSNBC introduces iPhone app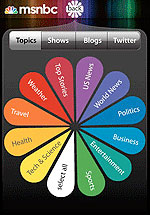 MSNBC has partnered with Zumobi to offer a new app for iPhones and iPod Touches.
The app connects users with the latest news headers, Twitter posts from NBC hosts and shows as well as existing apps for the Today Show and the Rachel Maddow Show, also powered by Zumobi.
News headlines are accessed through a radial menu inspired by the NBC peacock.
The app's first sponsor, BestBuy, has also integrated its own Twitter feed and daily information abou special directly into the app.