NBC O&O sites clean up layout, mess up header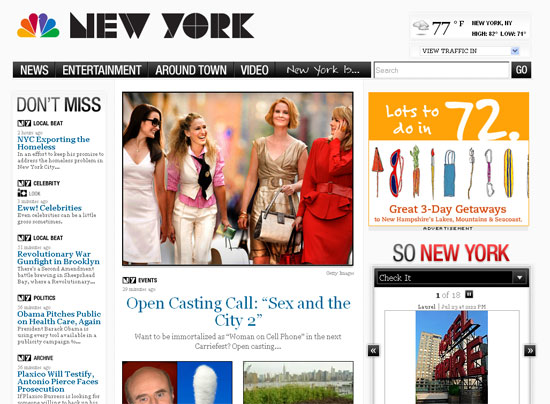 The NBC O&O stations have rolled out a redesign for their sites.
For the most part, the new design is a significant improvement over the old layout and takes a big step in cleaning up the clutter. Also gone is the annoying iTunes-style showcase area that always seemed to be a bit slow to load and had so many items crammed into it that it become impractical.
More commentary and a poll after the jump.
However, the new look uses, quite unexpectedly, a bizarre, geometric font for the header. Not only does the font seem completely out of place among the clean typography found elsewhere, it's not a very well-rendered typeface and seems like something that came from a free font site (we couldn't identify the font using MyFont's What the Font? tool).
That said, the new site has a Facebook-style status line directly under the logo that seems to be fed by a poll on an individual story. For example, this morning it read "New York is furious about letting kids drive trains." It seems the feature is meant to reflect the overall feeling of the entire city.
It's a nice human touch with a social networking flair, but it will be interesting to see how much opinion and attitude finds its way into the feature.