Loud concert evicts Olbermann from studio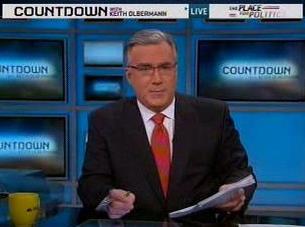 TVNewser has an explanation behind why MSNBC's "Countdown" was broadcast from the main MSNBC studio Friday instead of the second floor of the "Today Show" gigs.
Apparently Rockefeller Plaza was playing host to a concert that evening, something that MSNBC wasn't aware of until about an hour before showtime. Olbermann and his crew were forced to pack up and move across the street due to noise "loud enough to wake the dead," an insider told TVNewser.
As any faithful reader knows, I've often belly-ached about Countdown abandoning the fancy camera moves from the channel's days in Secaucus. Although those moves have made their way into "The Rachel Maddow Show," they haven't made a return yet on Olbermann's show.
While camera moves might seem trivial, I always felt they were a big part of what made "Countdown" such an interesting show.