'News doctor' Frank Magid dead at 78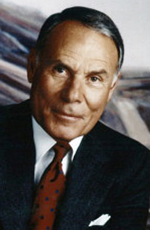 Frank Magid, a veteran television consultant often dubbed the "news doctor" has died at 78, reports the Washington Post.
Magid, who founded Frank Magid Associates, a top research and consulting firm for a wide variety of industries, is known for spreading the "Action News" format to counter the success of the "Eyewitness News" brand. The first station to use the "Action News" format, WPVI-TV in Philadelphia, remains a dominant station in the market today.
Magid is also the person credited with adding "happy talk" between anchors and other talent to many newscasts.
UPDATE: NewscastStudio previously reported that Magid was the creator of both "Action News" and "happy talk." Numerous mainstream articles at the time of Magid's death indicated this, but stories have since become more specific in Magid's involvement with the two concepts and some additional sources cite different people as their creators. Based on more recent stories it appears that while Magid did not create these two ideas, he was responsible for their mainstream adoption around the country.
In addition, Magid's research was responsible for Walter Cronkite being named solo anchor of the "CBS Evening News," despite the latter's dislike of TV news consultants (he referred to them as a "fad" and "balderdash" in an interview). Magid and his firm also worked on creating "Good Morning America."
Magid also played a key role in getting stations to realize there was a demand for early morning local news.
Magid retired from his company in 2002, which also helped AM radio stations make the switch to the FM dial and encouraged broadcasters to invest in cable properties.
Today his firm's homepage has been converted to display a bio of its iconic founder.