NAB 2010: The surge of touch screen technology
Subscribe to NewscastStudio's newsletter for the latest in broadcast design and engineering delivered to your inbox.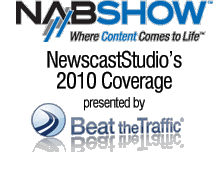 As touch screen technology becomes more affordable, many local stations and national networks are increasing implementation of devices like Perceptive Pixel's Multi-Touch Wall.
Now more than ever, talent can interact in new ways with data, stories and information. Sometimes this technology can be a little corny, but sometimes it can be a great addition to the story.
At NAB 2010, many creative service providers are rolling out new touch technology additions including Beat the Traffic, AccuWeather and others.
Along with all of the additions to existing systems, some stations are looking for ways to add touch technology without purchasing a "Magic Wall."
Orad Hi-Tec Systems debuted at NAB 2010 a touch system that doesn't need a touch screen, called RadarTouch. The system is "the first time that broadcasters can have completely interactive broadcasts from their regular video walls or screens."
The system mounts on the floor or ceiling and can turn any display into an interactive surface. "The solution supports very large screens – up to 30 meters, enabling the presenter to interact with very big walls," said a Orad Hi-Tec Systems press release. "The interactive laser based solution does not need to be physically attached to the screen that displays the graphics – it can be mounted on the floor or ceiling."
With this technology advancement, stations can now look to upgrade existing monitors and even large scale RP's at a fraction of the cost.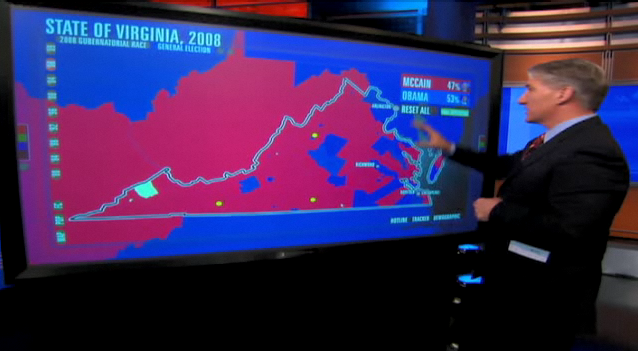 Along with new technology, many software companies are also rolling out new upgrades that add interactivity into its existing work flow.
So, what does all this touch technology mean? In the short term higher costs for stations that want to add this technology, but in the long run it allows more ways to tell a story with more interactive elements.
We'll have to see if touch technology continues to grow, or if it goes the way of the virtual set, with mixed interest and adoption.