Stations get creative with hiding nudity in painting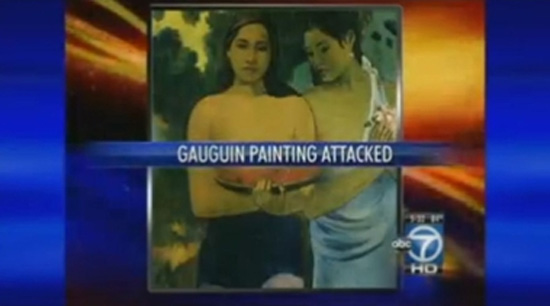 The story that "Two Tahitian Women," an $80 million Paul Gauguin painting, was the target of a vandalism attempt at a Washington, D.C. gallery provided a bit of a dilemma for local stations since the painting includes frontal nudity (which, in fact, was allegedly the reason behind the attempted attack).
Read more and vote in our poll after the jump.
As the Washington Post reports, some stations elected to show cropped versions of the painting in promos but bared it all for the actual newscasts. Fox affiliate WTTG-TV strategically blurred out portions of the painting on its earlier newscasts but opted to show an unaltered version on late night shows.
Perhaps the most creative solution, however, came from WJLA-TV, the city's ABC affiliate, which opted to placed a lower-third style banner over the women's chest that served double duty — provide a way to hide the nudity and provided a "headline" of sorts.
The approach is interesting, though this solution seems fairly obvious since the banner looks a bit out of place floating in the middle of the screen.
What do you think? Is it a big deal to show artistic nudity like this on newscasts? Vote below.