ESPN to rollout "NonStop" format for NASCAR races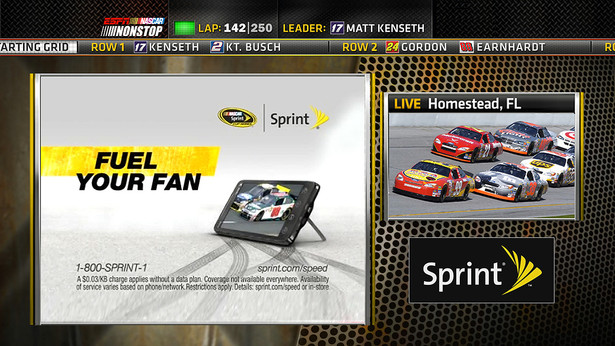 ESPN's telecasts of the final 10 races of the 2011 NASCAR Sprint Cup Series season will have a new look with the introduction of "NASCAR NonStop," a commercial format which shows the race in progress side-by-side with commercials.
Unlike football, basketball, hockey and other stick and ball sports, auto racing does not have TV timeouts. In NASCAR NonStop, ESPN's commercial breaks will feature a split-screen format showing the advertisement on the left side of the screen and a continuation of racing action on the right side. In addition, ESPN's scoring ticker will continue to move across the top of the screen, allowing NASCAR fans to follow the running order of the race during the breaks.
"Since we returned to NASCAR racing in 2007, one of the most common questions from our fans has been 'why don't you do the commercials side-by-side?'" said John Skipper, ESPN executive vice president, content. "We're very pleased to be able to do it now with NASCAR NonStop and showcase the advertiser while still showcasing the race. ESPN's mission is to serve sports fans and this is a way to give the fans more racing action during the Chase for the NASCAR Sprint Cup."
The format is also used by Versus for the Indycar Series and by ESPN and ABC for the Indycar Series.