A modern new Sinclair look in Nashville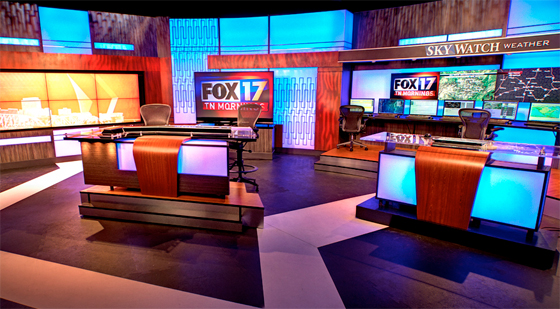 WZTV-TV, the Sinclair-owned Fox affiliate in Nashville, has launched its new set from Devlin Design Group.
The "new generation" set for Sinclair features modern, backlit elements combined with gray-hued and warm wood-toned walls.
The middle of the studio includes an asymmetrical anchor desk that features both solid and backlit elements and a wood "ribbon" in the center that wraps up under the glass-topped work surface.
The anchor desk itself is situated in front of a large monitor that sits camera center of the anchors. An L-shaped wood structure intersects with the backlit material to form another asymmetrical look that, when combined with the gray L-shaped portion of desk, creates an interesting focal point.
The backlit wall behind the anchor desk includes thin interwoven lines that help break up the solid blocks of color a bit.
To the left of this area is a twelve-panel LCD wall allows for displaying video and graphical backgrounds for a wide variety of purposes. The monitors used here and in the standup areas of the set have minimal bevels, which give a cleaner and, in the video wall, a more seamless look.
The set also includes a large weather center with a large backlit wall and additional LCD monitors. In front sits a standup pod that borrows design cues from the anchor desk. A smaller version of this pod is also used for standups, giving all of the desks and pods a cohesive look.
Another interesting element of the studio is the wide white stripe that visually connects the vertical backlit panels on the camera left video wall to the stacked panels found in the weather center camera right.
Devlin's lighting designers also further enhanced the set by throwing light enhanced with textured gobos on many of the header elements and set walls, including some gobos that have a similar pattern to the interwoven elements behind the anchor desk.
DDG has posted more details about the set on its blog.
To view more photos, visit our SetStudio entry for WZTV-TV.