Fox News Channel issues 'hostile,' 'competitive' card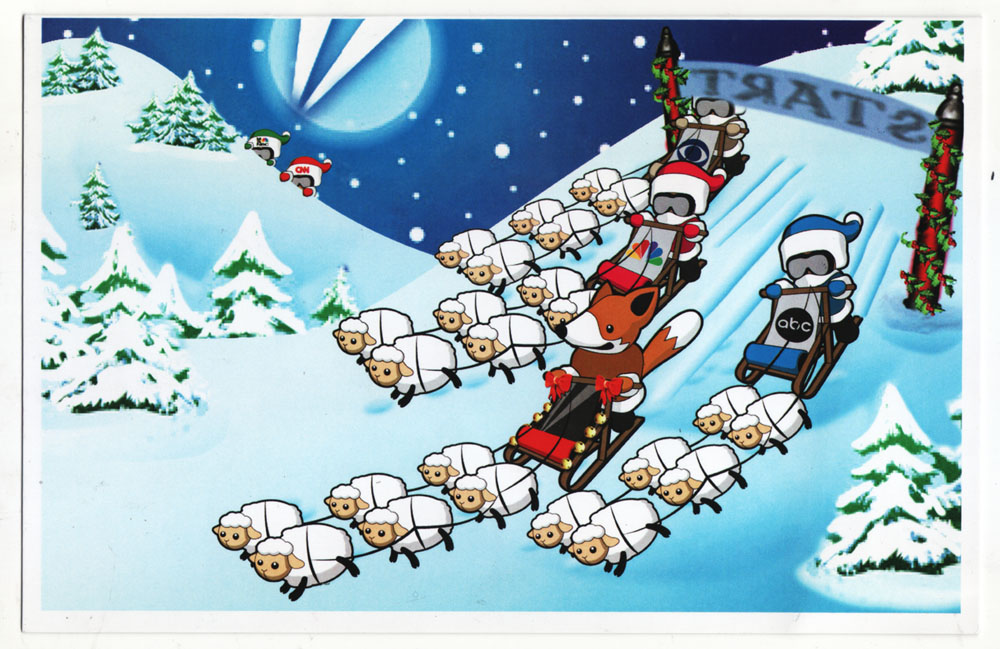 Not to be outdone by its sister network, Fox News Channel sent out holiday greeting cards poking fun at its competition.
The New York Observer received one of the cards and notes the front features sleds representing CBS, NBC and ABC being driven by sheep. The one being piloted by a Fox is, of course, winning the race, while figures representing CNN and MSNBC are seen peaking over the hill — apparently ineligible for participating in the race.
Inside is what the Observer calls a "hostile" and "competitive" message:
Joy to the world for Fox News Channel
Consistently number one
We are the network that viewers choose
Fair and balanced news
See our ratings we don't lose
Beating the rest in TV news
One thing's for certain, we're here to stay
As our fifteenth, we celebrate
News-gathering redefined, our news channel's one of a kind
So many wished we would fail
But we proved we're far from frail
And winning we are as behind us they do trail
Our talent can't be matched, one can't deny
But sadly still they try
Bill O'Reilly and Hannity, Shepard Smith and Megyn Kelly
With Fox & Friends on the couch we sit
While Cavuto gives a financial twist
We go live with The Five and tough questions Baier doesn't miss
Joy to the world for Fox News Channel
The most trusted name in news
The best in breaking news, exclusive interviews
We are the ones to beat
Defeat we shall not meet
So into the background the rest do retreat
The latest in design, production and engineering
Subscribe to NewscastStudio for the latest delivered straight to your inbox.