Cast your vote in Round 2 of 'Set Madness'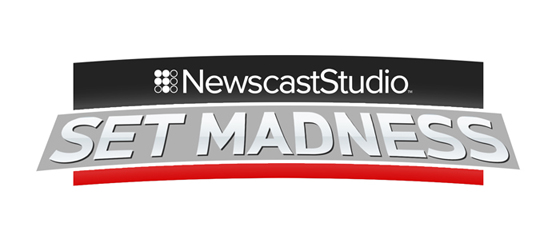 Well, the results are in. Round 1 of "Set Madness" attracted over 1,300 votes and we're excited to announce which sets are moving on to Round 2.
In the Network Division, NBC's "NBC Nightly News"/"Rock Center" set attracted 28 percent of the vote, over double what its competitor "Good Morning America" registered. This category was interesting in that many people didn't vote at all.
Meanwhile, on the international side of the Network Division, NTV's massive set garnered an impressive 87 percent of the vote, compared to just 55 votes for SMG.
The race between the two New York City stations in the DMAs 1-25 Division was close. Just 26 votes separated WABC-TV and WCBS-TV, but WCBS-TV squeaked out a win.
The other DMA 1-25 competition against KDTV-TV and KHOU-TV was also fairly evenly split, but KDTV-TV won with 23 percent of the vote.
In the smaller market division, WZTV-TV won against KJRH-TV with 24 percent of the vote.
WSYR-TV, meanwhile, won against KRIS-TV with 20 percent.
Both groups of Cable Division contenders, meanwhile, also saw a heavy "no-vote," but MSNBC's Studio 3K won against Discovery Channel's "Daily Planet" in the first group.
The second group, which pitted the "Speed Center" set against the Longhorn network, saw the former handily win with 29 percent of the vote.
So, now it's time to vote again.
Network Division
DMAs 1-25 Division
DMAs 25+ Division
Cable Division
Ready to vote?
Click here to vote. Voting closes Friday, Jan. 13 at 11:59 p.m. ET.