CNN to redo D.C. studio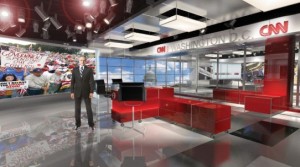 CNN plans to completely redo its its Washington, D.C. studios.
The changes, announced by D.C. bureau chief Sam Feist, will include new homes for most of the network's Washington-based programming, including "The Situation Room," "State of the Union" and "John King USA."
According to Fishbowl DC, Feist sent out an email last week announcing the changes.
During the eight month renovation, "The Situation Room" will originate from "the Red Conference Room" on the eighth floor. Other shows will use the network's "Cap Set" and other space throughout the building, including CNN En Espanol's facility.
Plans call for the renovations to wrap up just after the Democratic National Convention in September, with black box work finishing up in May. The months of May through July are set aside for installing the new sets and equipment. August will see rehearsals and fine-tuning before the September debut.
The combined Studios A and B will also play a key role in the network's presidential election coverage later in 2012.