Twitter launches expanded tweets feature with content from partner outlets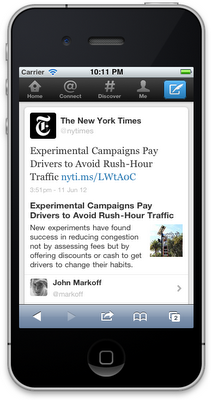 Twitter unveiled "expanded tweets" Wednesday, a new feature that allows partner content providers to directly embed content previews, images and video into tweets.
The expanded tweets are available via both the main Twitter website as well as the Twitter mobile site.
As of now, only a select number outlets are using the expanded tweets feature, including CNN and MSNBC's BreakingNews.com.
The feature currently isn't available via the iPhone or Android apps, but Twitter plans to add it soon.
Read more about CNN's use of expanded tweets here and see Twitter's blog post about the new offering here.
Interested media outlets and content providers can sign up to be considered for the program here.