The colorful and rectangular 'Cycle'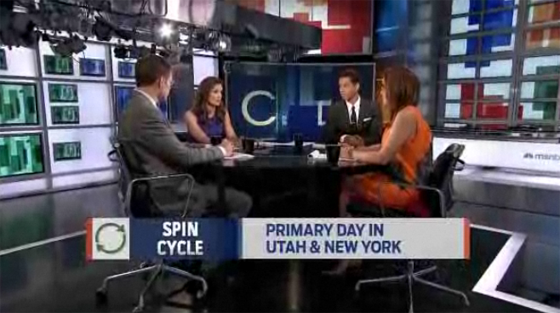 Aiming to be a "dinner party in the afternoon," MSNBC's latest panel show debuted this week.
"The Cycle" airs daily at 3pm ET and received the star treatment from MSNBC from the start, including a custom branded sub site, video player and new circular desk.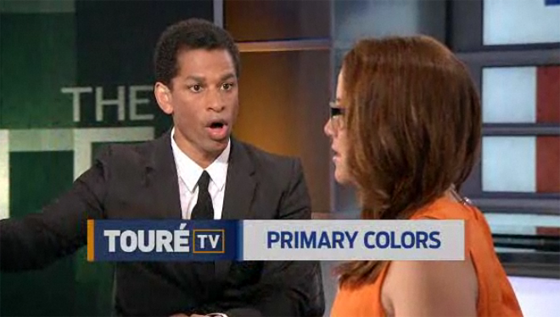 Unlike many MSNBC shows, the show also utilizes the full spectrum of colors and cameras in Studio 3A. Many jib shots and Steadicam shots are used and the pacing is fast, with cameras rapidly shifting. "The Cycle" is a cable news show in the round, while shows like "Now with Alex Wagner" utilize a large and wide desk to accommodate a panel of guests.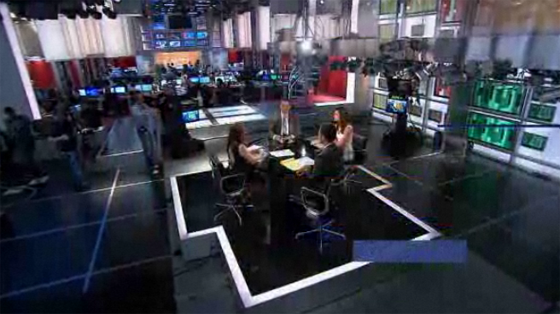 Is the studio in the round technique effective? It's been done before on many shows, and even with a circle desk on shows like "Parker Spitzer". Framing and movement wise, it works. One problems appears though, color. In an attempt to do something different, each host has their own color palette, special graphics, etc.
This decision has made the walls of the studio into a maze of colliding colors with green, blue, red and orage all appearing at various times. It's a bit overwhelming, and a little too colorful. Remember when NBC used the slogan "More Colorful?" Well, this is what they had in mind, I guess.
Along with the color, a texture is used on all of the colored rectangles, a possible use of digital skeuomorph.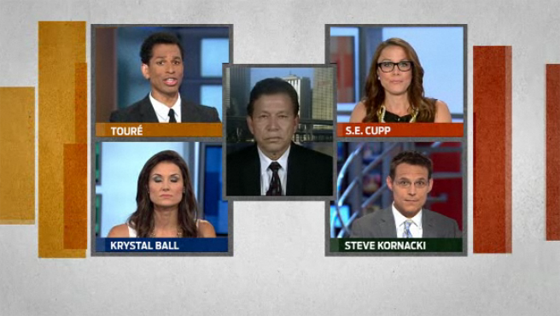 The graphics also include a "Brady Bunch" box, showing all the hosts and guests at the same time. This element has drawn some criticism from Andrew Kirell on Mediaite, "Each host has a color assigned to their box when all four (plus guest) are shown in Brady-Bunch-box mode…But the boxes also reveal how uncomfortable some of the hosts seem with this new format, namely Ball who, on multiple occasions, seemed confused about where to look."
We're not going to break down the discussion on the show or the number of panel shows MSNBC now features. Overall, the presentation  could work, but seems to be a miss. There's too much going on, confusing viewers and even hosts. "Now with Alex Wagner" is a panel show that works. This show seems over thought, and because of that, it has issues.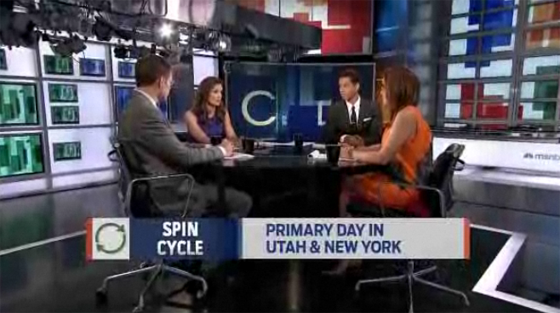 One interesting note is how, so far, MSNBC has left the main news desk just sitting out in the background, almost like the "garage" is full of other desks. For those wondering, the "garage" is located behind the large wall with multiple TV's next to the RP screen.