Vizrt powers graphics on Sky News Arabia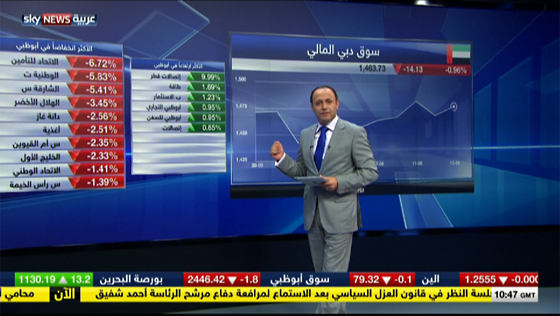 Breaking from its sister stations, Sky News Arabia launched exclusively with Vizrt powered graphics.
The channel has a variety of uses for real-time 3D graphics, such as the "screen furniture" of multiple tickers, side panels, maps and Breaking News alerts constantly animating around the video window. In addition, the news content includes full-frame 3D animations in its stories, as well as displaying maps and background story graphics displayed on a large video wall in the studio.
Everything is generated with a consistently branded look that is uniquely Sky News Arabia.
"When we set out to create Sky News Arabia, the key requirements to delivering a successful graphics package were quality of finish, ease of use, unity of platform and a breadth of graphic presentation," said Roland West, creative head for Sky News Arabia. "Having built on the knowledge shared by Sky News UK and Vizrt through a collaborative relationship, we have successfully launched the channel on a graphics system capable of achieving the quality and speed that Sky News demands."
System efficiency, which could deliver breaking news first, was the primary objective in designing the Vizrt workflow.
This was achieved by building in a high level of automation into the graphics templates used by operators and in the newsroom.
This provides a very high quality 3D animation, with consistent branding ready to take to air within seconds of a story breaking. This can be added to and enhanced as more information becomes available throughout the day.