CNN debuts new homepage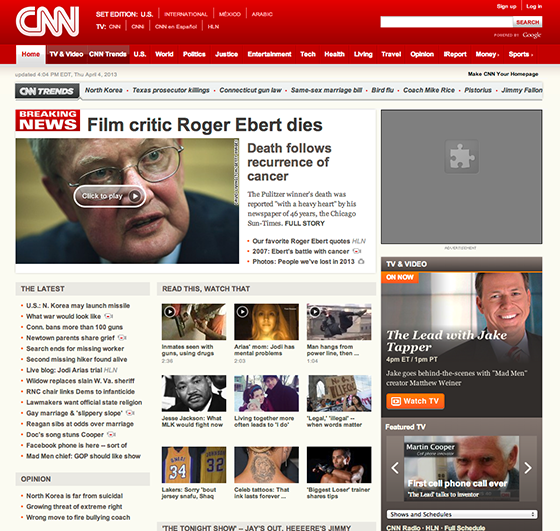 CNN rolled out a new homepage this afternoon.
TVNewser notes, "The moves carry Zucker's fingerprints, including a cleaner look, some design influences from the CNN app, 'CNN Trends' at the top of the page and news sections color-coded to the subject, as seen on Jake Tapper's 4 PM show 'The Lead.'"
"Throughout the coming days, weeks and months Meredith and Mike will drive an effort to develop a punchier, more authoritative and engaging voice for CNN.com — from headlines and imagery to content and story order," said CNN Digital senior VP and GM KC Estenson in a note to staff. "We do breaking news better than anyone, but there's room for improvement and expansion beyond the breaking news cycle — through urgency, quality and story selection."
The color coding jumps off the page, but is a bit over-the-top for CNN's usual style. The usual appears to be changing…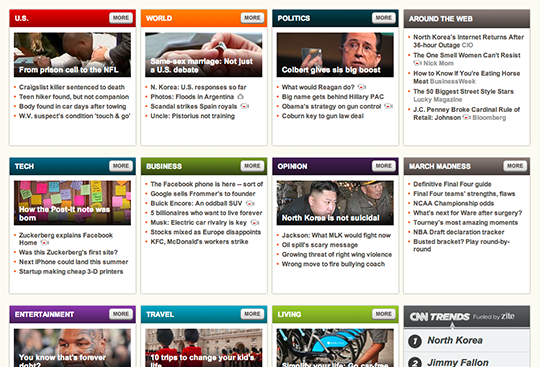 The big video and TV section is a good addition, as it connects viewers with shows. Also notice the synergy in the current advertising under the player.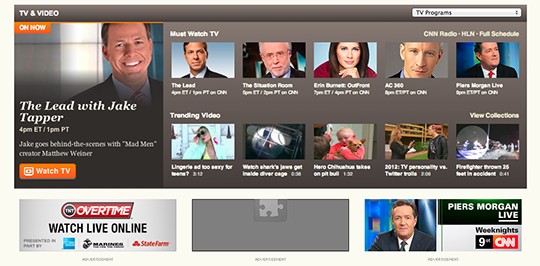 The website is not responsive, as CNN still has other platforms to support mobile applications.
The latest in design, production and engineering
Subscribe to NewscastStudio for the latest delivered straight to your inbox.