Did CNN give viewers Michaela Pereira's phone number?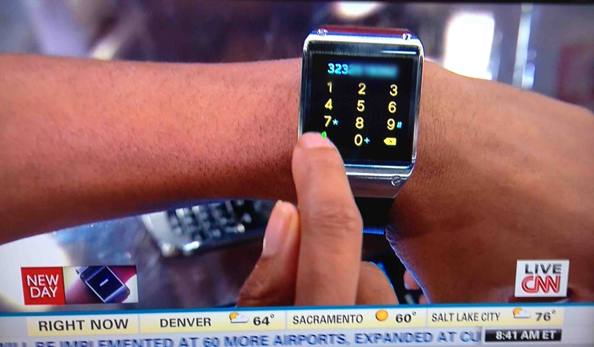 CNN's "New Day" was having quite a bit of fun this morning showing off the new Samsung Galaxy Gear smartwatch it had on set, but did the network accidentally air its news anchor's cell phone number?
During a live demonstration, reporter Zain Asher placed a telephone call to news anchor Michaela Pereira using the device. It appears Asher had the number stored in speed dial, as it popped up on screen after touching only a single button — and perhaps Asher thought this would prevent the number for showing on screen.
Unfortunately, it didn't. A ten digit phone number in the area code 323 was clearly visible for several seconds (we've blurred out the last seven digits in the photo above).
A quick check shows that 323 is an area code assigned to the Los Angeles area, where Pereira worked at CW affiliate KTLA-TV immediately before joining CNN. Calls to the number go unanswered and go to a generic voicemail greeting that then informs the caller the voicemail box is full.
While there is no confirmation that the number shown was Pereira's, it's worth noting that the call did, in fact, ring to the cell phone Pereira had with her on set. In addition, right before the call went through, Pereira noted that the same phone received a tweet, which is indicative that it could be a phone she does use at least for the show.
Of course, it's always possible the number was a demo-only number set up by CNN or Samsung. It is interesting, however, that the number does appear to be a real, functioning wireless number.
In addition, in a tease leading up to the segment, anchors Chris Cuomo and Kate Bolduan were playing with the device's touchscreen and a seven digit phone number (prefixed by "+1") for a "Chris Richardson" popped up on the screen.