Inside the Fox News Deck design strategy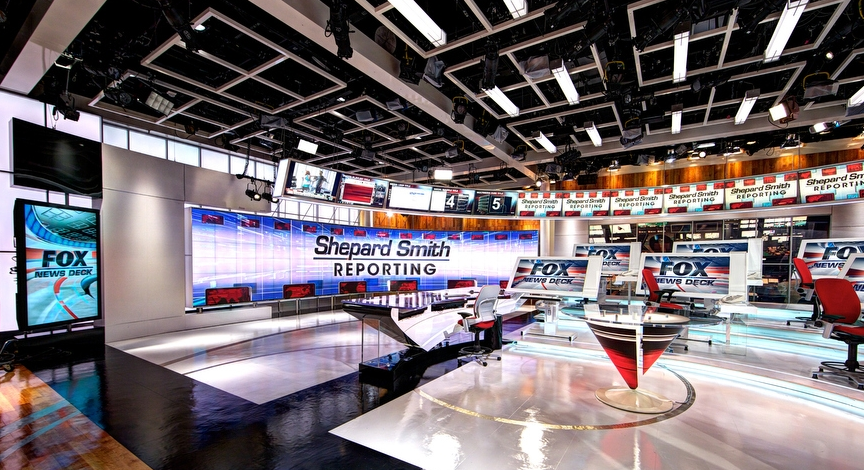 Subscribe to NewscastStudio for the latest news, project case studies and product announcements in broadcast technology, creative design and engineering delivered to your inbox.
EXCLUSIVE: By now, you know about Fox News Channel's Starship Enterprise — I mean the "Fox News Deck."
The replacement for Studio H, the "Deck," features a unique mix of technology, information collection and rethinking of just how news should be processed and delivered on air.
The new set was covered heavily on Mashable and a host of technology sites for its massive touchscreen computers (and how science fiction they looked), but the space is about more than just screens — it's about data.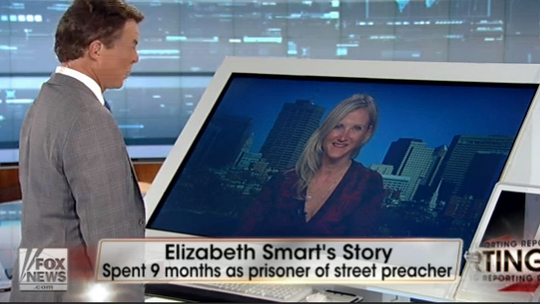 The set was built around the idea of getting to the story sooner and exposing more viewpoints. Viewers are already finding stories faster than networks through social media, so the Fox News Deck represents Fox's endeavor to try and beat them.
The Fox effect
Overall, the set represents something only Fox News could pull off.
"There's an aspiration with it [the Fox News Deck] to recognize the other communication channels that everyone's using behind the curtain anyway," said Erik Ulfers, president and founder of Clickspring Design. "The environment has to address that."
No other network could be as daring to put so much technology and staff on screen. No one. Only during elections has it been tried at the network level, but it really hearkens back to an old TV news concept.
"We've had working newsrooms that have went in and out of fashion," said Ulfers. "I think news organizations have just been afraid of it."
Ah, the newsroom. It comes and goes depending on the latest survey of viewers. Do we show the newsroom on air? Do we use it as the background?
MSNBC has a newsroom background (sometimes), so does CBS News and ABC News. Those are just people mulling about at desks, what Clickspring has done with Fox News takes it a step further, placing the anchor into the realtime "activity feed" of news as it enters the producers screens. As Shepherd Smith quipped, "when we crank it up for breaking news it's going to work beautifully."
"It's a work environment," said Ulfers. "It's 100 percent authentic in terms of their workspace. It's not fake or just for the broadcast, that's whats kinda new about in a way."
We will see if that happens, and we'll see how long it lasts. That's a lot of staff on air, a lot of staff that now have been transplanted to a studio for an office, and a unique idea that might be too unique for the viewership.
"It's not a studio in an office building, we created an office building in a studio," Ulfers added.
A fast build
It all came together in only five weeks, combining two of the areas top fabrication teams.
Both blackwalnut and Showman Fabrication worked on the project, building and installing in record time for a project this size.
The result
In my chat with Erik Ulfers yesterday, I sensed he wanted me to use a certain word — to make this set into a "watershed" moment for U.S. news. Fox News would love for me to say that too, it is the channel's 17th anniversary after all, but this is really an old concept with a new execution.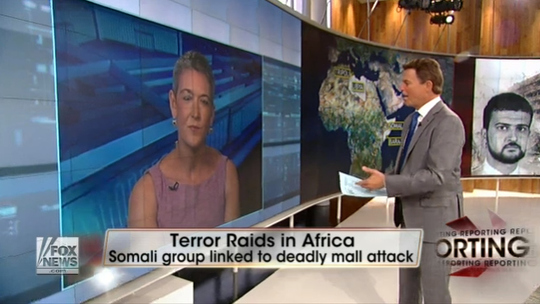 This set is not about the flash, it's not about having the biggest touchscreen monitors (even if it does), it's about the news. It's a design that truly does put the news first. While the set to many may seem flashy, this is really not a flashy set. Ulfers described it as having a fairly neutral palate and being a "fairly significant break for Fox News" set design.
It just has a lot of moving news.
"The data is more important than the branding of the show, Shepard Smith or Fox News," said Ulfers.
The graphics are tame, the set treatments are neutral, the monitor walls are plenty… but they just have the stories.
A newsroom on camera is not a new idea, but only Fox News and Clickspring could tie together so much on camera and off camera technology to create something more than just an office space with studio lighting. Will it add any value to coverage? Is it a gimmick?
Fox News has decided to push the boundaries, and like it's now-gone cube RP, we'll see if it lasts and see if the competitors decide it's a worthy idea.
Subscribe to NewscastStudio for the latest news, project case studies and product announcements in broadcast technology, creative design and engineering delivered to your inbox.