MSNBC channels 'Jeopardy!' game board on studio wall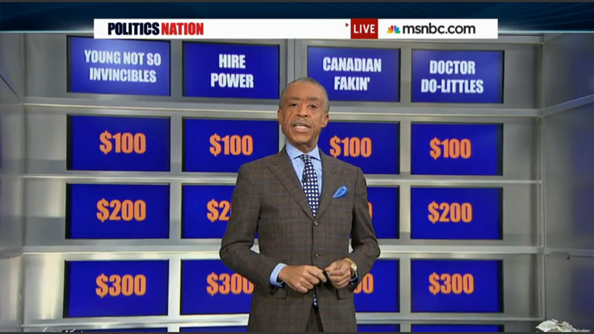 In a segment on Thursday's "PoliticsNation," MSNBC anchor Al Sharpton found a rather creative use of a staple of the MSNBC set.
Sharpton used the MSNBC studio's two story flat panel wall to create a condensed version of the Jeopardy! game board for a segment titled "GOP Jeopardy!"
The video wall, which features a thick silver toned grid around each screen, is often used to create the illusion of a window, with live or stock video fed to it. Other shows use the wall to display branded graphics behind hosts and guests.
For example, the original "Ed Show" used the wall to display audio bar graphics, while a live camera feed from high above Rockefeller Center is also frequently seen.
Part of the wall also can be raised up allowing access to a storage space behind it — the "garage door" as it's become known around 30 Rock.
A similar one, though not as tall and not movable, is on a little seen wall of the "NBC Nightly News" set across the hall.