Kathie Lee and Hoda get new set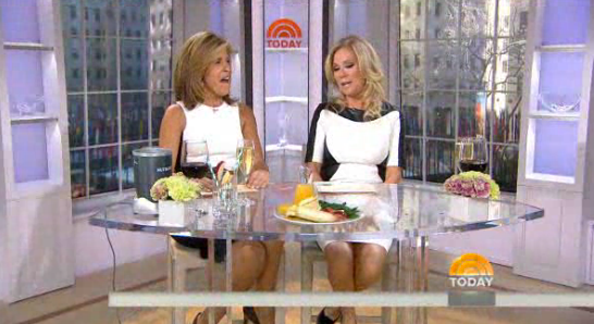 While the main "Today" crew was in Sochi, fourth hour hosts Kathie Lee Gifford and Hoda Kotb got a special treat — a new set on the second floor of Studio 1A.
The pair now presents from a corner of the second floor framed by faux windows. The L-shaped wall is outlined by a backlit band and adjacent to the revamped "Today" kitchen.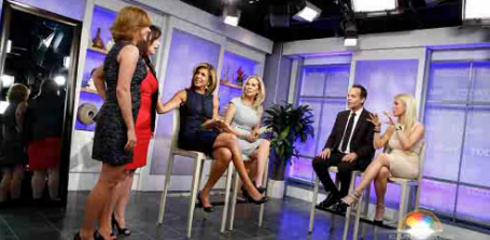 Gifford and Kotb's set occupies the space previously used for various segments, notably the show's "Ambush Makeovers," as shown above.
The pair retains the high glass table and stools, which are now situated in front of a low wall and framed, between the windows, with narrow shelves backlit with color changing material. The shelves are used to display glass and pottery pieces, while the one in the corner of the studio features a rather small "Today" show logo.
The one high point of the new set is the lighting — something both Gifford and Kotb gushed about on Monday's broadcast. Highlights include the window pane gobos that splash light on the floor and accent lights in the set's shelving. That said, there was also times when the area's smaller size creates lighting issues — such as when distracting shadows appear behind and to the side of the hosts in wide shots.
It's interesting to note that the white and sterile look more closely mirrors the old Studio 1A look — rather than the warmer, more textural set that debuted in 2013 and is currently in use on the other three hours of the show.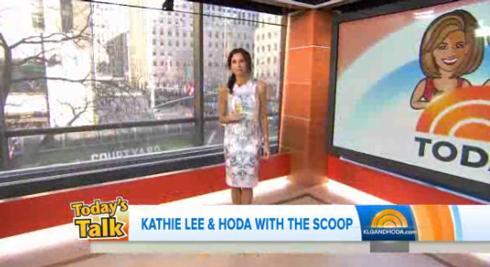 Some of that warmth can be found in another corner of the the upstairs area — where the corner pillar has been resurfaced with a warm wood tone rather than the dimensional "Today" logo collage. This area, which was previously an alternate location for Kathie Lee and Hoda's hour, has retained its large flat screen monitor and also adds orange bands beneath the windows.
While the brighter, cleaner look for Kathie Lee and Hoda's set may have been a conscious design decision to give the fourth hour a bit of its own look and feel, it looks a bit jarring when used in conjunction with other areas that have decor that matches the rest of the set, such as this second floor area.
Overall, the new look for Kathie Lee and Hoda gives off the appearance of being flimsy and cheap — almost like it's a "Saturday Night Live" version. Despite the custom furniture and surfaces in the downstairs area, this area lacks that attention to detail: Note the way the paneling at the base of the shelves has been awkwardly trimmed off at the top.
Video of the debut:
[field name=iframe]