'Ronan Farrow Daily' debuts from 3K, 'Cycle' moves in too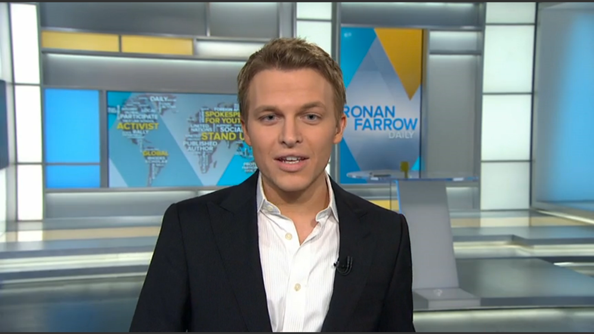 MSNBC's latest show, "Ronan Farrow Daily," debuted Monday from the network's multipurpose Studio 3K in Rockefeller Center — while "The Cycle" also relocated to the studio.
Studio 3K is currently used or has been used for a variety of MSNBC programs, including "The Ed Show," "All In" and "The Last Word" as well as NBC's "Dateline" and "Early Today."
The studio was designed by Clickspring Design and fabricated by blackwalnut.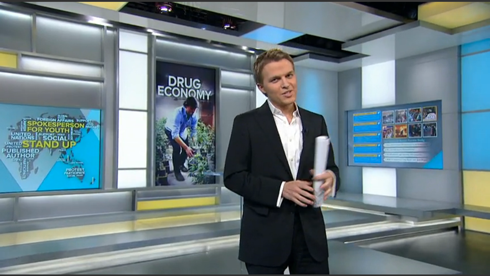 As NewscastStudio reported recently, the network recently revamped the studio, removing the wood tones and bookshelves and adding additional areas, including the venue used mainly for Farrow's show.
Farrow presents mainly from in front of a new corner of the studio, which features multiple flat screen video panels, including a vertical one.
Farrow's graphics, meanwhile, take on a blue, gold and gray color scheme with triangular patterns — making use of a somewhat tired trend in today's design world.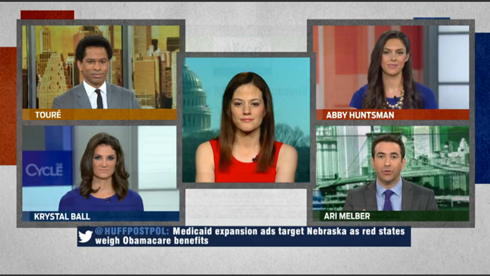 Meanwhile, "The Cycle" also moved to the studio, using a circular desk for its four hosts — and the show made use of the video walls to color the walls behind each host with either red, blue, green or yellow backdrops, which match the graphics used in conjunction with each anchor in other areas of the show's look.
The bones of the Studio 3K set originally debuted in 2011 and it was tweaked at various times over the years, including the addition of freestanding flat screen units and a conversion to make the studio a 360-degree environment when "All In" debuted from the studio.
Also on NewscastStudio
At one point, Studio 3K was also home to one of the network's green screen studios used primarily for election coverage.
Overall, Studio 3K's set represents one of the network's most flexible and versatile sets. Its multiple video walls, including one rear projection and one flat panel array, along with the color changing walls, make it easy to instantly rebrand the set. In addition, those backlit walls, sleek glass anchor desks and ceiling mounted "lanterns" echo the overall MSNBC and NBC News look and feel let it seamlessly appear on NBC or MSNBC.
The set has also been redressed for an "All In" special on poverty, that saw new lighting cues and a duratran changeout.