'Nightly' channels 'Brady Bunch' blue for pillar boxes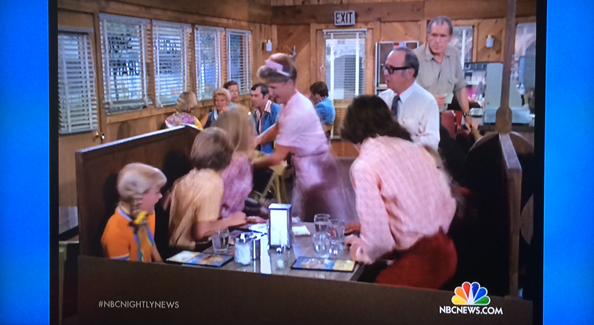 It's a background that any pop culture nut will almost instantly recognize — the sky blue behind the smiling faces of the Brady family in the show's iconic checkerboard-style opening — and "NBC Nightly News" gave it a nice nod on Monday's broadcast.
The show's kicker was a tribute to Ann B. Davis, the actress who played the family maid, Alice, during the show's five years, who died over the weekend.
Since much of the B-roll used during the package was taken directly from "Brady Bunch" episodes, which are only available in 4:3 aspect ratio, the piece called for heavy use of pillar boxing to fill in the gaps on the left and right sides of the video.
Rather than use the typical "Nightly News" branded 16:9 wings or the common trick of blowing up and blurring the center video clip, NBC News opted to fill the space with that iconic blue shade.
The color matching was almost spot on — as evidenced by the side-by-side appearance in the package's opening clip that incorporated clips from the opening sequence.
Having the blue pillar boxes appear during almost the entire package was a clever way to visually incorporate the "Brady Bunch" look and feel into the story — almost like giving viewers a glimpse through one of those squares and into the past.