'Today' to celebrate one year of Orange Room with streaming event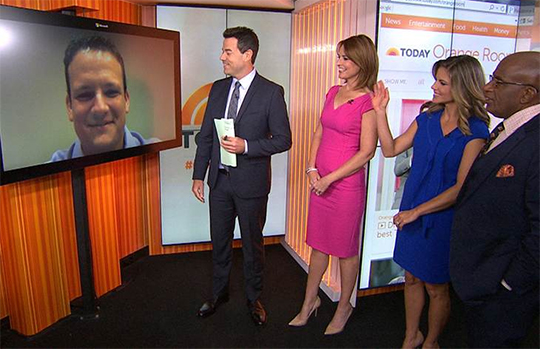 In celebration of the one year anniversary of its "Today" digital studio, dubbed the "Orange Room," NBC News is planning a special live streaming event.
The event, hosted by Carson Daly, starts at 7:20 a.m. eastern time and will be titled "The Orange Room Show."
The hour-long special will stream live on today.com and feature a performance from multi-platinum singer Phillip Phillips. Portions of "The Orange Room Show" will simulcast live on TODAY.
Throughout the hour, Carson will look back at the Orange Room's biggest headlines and most memorable moments since its debut, from the launch of #DearCongress to the Orange Room puppy party, and he will go behind the scenes of Studio 1A.
Viewers are invited to join the celebration and share photos of their Orange Room pride using the hashtag #SeeingOrange.
"Today" launched the Orange Room in 2013 along with the debut of the new Studio 1A set.
The room is touted by the network as a digital studio and also serves as a sort of social media hub. The area, which is located off to one side of Studio 1A, includes a video wall, standalone touchscreen monitor and workspace as well as an informal interview area.
Just a few months after its debut, the Orange Room was "relocated" to Sochi, Russia and temporarily renamed the Oранжевый Room (the name "the Orange Room" in Russian).
Meanwhile, in March, rival "Good Morning America" created its take on the Orange Room — the "Social Square."