Boston 'newsplex' gets video ribbon update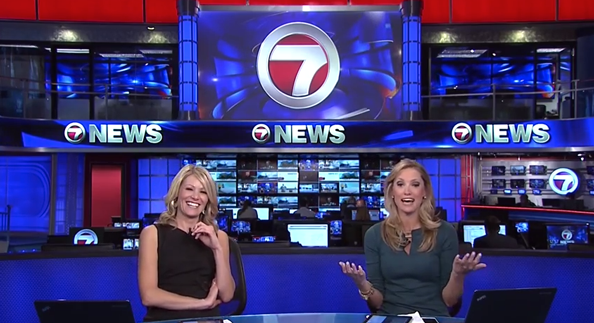 WHDH-TV, the Boston NBC affiliate known for its over-the-top production values that include vibrant graphics and sweeping camera moves, has rolled out some changes to its set.
The station's working newsroom set, which has been dubbed the "newsplex," has maintained the same basic layout for years, but the latest update includes a key technology upgrade — a new video ribbon around the perimeter of the newsroom's balcony.
The station has also switched to narrower internally lit columns to the large rear projection screen that was added in 2008 when the station switched to HD. This screen, which is on the second level of the newsroom, is frequently used as a graphical element above the the main anchor desk two shot.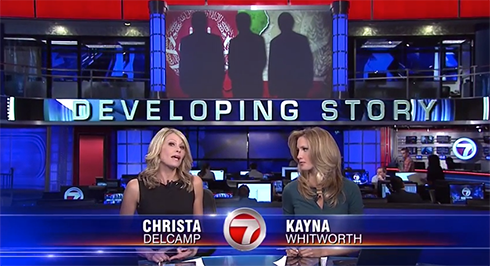 The station also continues its use of the second floor screen to toss to live shots or show video clips or graphics while the anchors are on camera or as the jib sweeps across the newsroom workstations.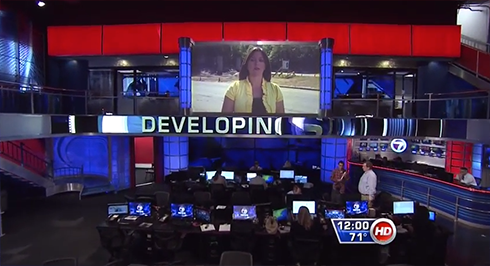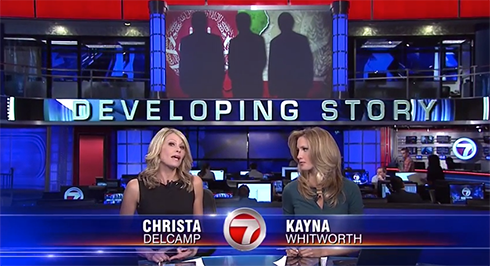 In addition be used to display the "7 News" logo in a similar fashion to before it was electronic, the new video ribbon is often used to display topical graphics as well as eye-catching animations touting developing stories and the like.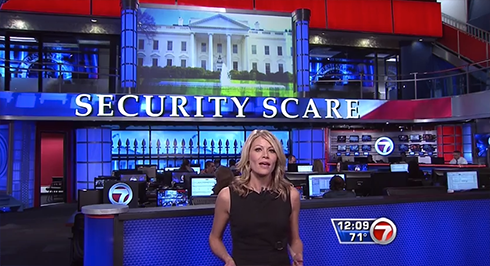 In addition, the video ribbon is often used in conjunction with the rear projection screen and flat screen monitor array below it (which typically is used to create the effect of a monitor wall), such as the example shown above.
The station, which was covering the White House security breaches, used an American flag themed graphic in the video ribbon, with an image of 1600 Pennsylvania Ave. on the rear projection screen and a graphic of the building's fence on the monitor wall below. The result — a cohesive, fully topical graphical look.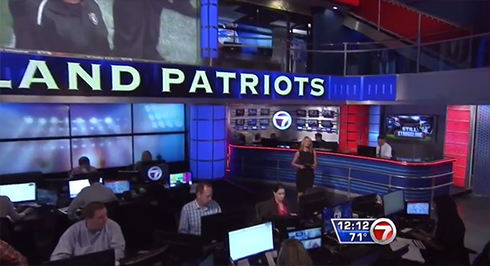 In another example, for a sports story, the station fed a football field themed blue graphic with "New England Patriots" on the ribbon, a stadium lighting image below and game footage above while a jib moved across the newsroom to the anchor, who was standing in front of a work area that also includes a large video panel with a topical OTS graphic, as shown below.
See the new set in use in this edited compilation of a noon newscast, courtesy of New England One.