Golf network launches with mix of virtual and real set design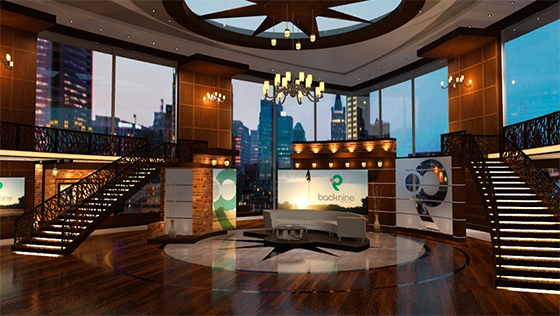 BACK9NETWORK recently launched from new studios in Hartford, Connecticut, with carriage from DirecTV.
The network worked with FX Design Group to create a series of virtual and hard sets for the launch, which air on various programs including: "The Turn," "Off Par," and "The Clubhouse."
"We wanted our set design partner to understand the atmosphere we were looking for to provide a balance to both enhance our storytelling and yet present an environment that reflects our home in Hartford," said Carlos Silva, president and COO of BACK9NETWORK.
BACK9 intended to launch with a large-scale set, seen on its website in a gallery here, but due to a variety of "challenges and changes [that] cropped up throughout the process," the network and FX decided to create a more flexible solution.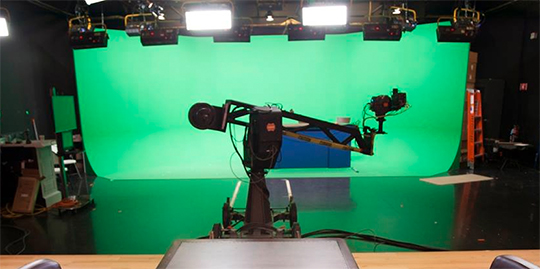 BACK9 worked with Hybrid TV on the virtual studio technology, providing tracking solutions for real-time chromakeying.
"The large set and the small set had a continuous theme," said Kevin Vickers, FX senior design manager. "The dark, rich woods, the rustic brick the lighting and reclaimed wood floors. It's all there."
The setup includes three cameras from Grass Valley, two of which are mounted on Hybrid's robotic heads. A third is mounted on Hybrid's robotic jib.
"Through the many advancements in television production, it is evident that virtually created environments have gained acceptance from viewers. Additionally, we found several efficiencies through such solutions, and it was a clear choice to implement such a design within our studio," said Harry Goldberg, VP of engineering and operations of BACK9NETWORK. "It's a stunning integration and provides us with the opportunity to develop further environments around new programming in the future."