CNN plans 'My Magic Wall' app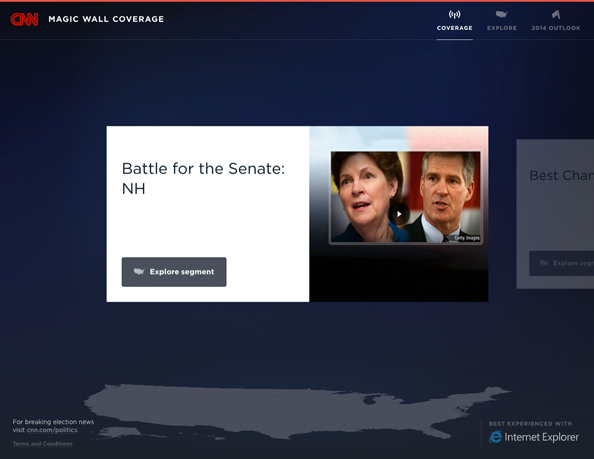 CNN will back its election coverage with a new online Web app for its famous "Magic Wall" as well as virtual visualizations of the U.S. House and Senate chambers.
This "My Magic Wall," application, developed by Microsoft, enables viewers to engage with the network's coverage while exploring data and projections in real-time with 3D data visualizations and advanced touch functionality, the network said in a release.
The app, located at [website no longer exists, sorry. For other Magic Wall coverage, click here.], wraps the network's election coverage, an interactive election map and election results powered by search Bing into a sleek (if not gimmicky) interface. Of course, the site is "best experienced" using Microsoft Internet Explorer.
This is in addition to the network's use of the Empire State Building as an LED election "meter" showing the Senate results.
Meanwhile, correspondent Tom Foreman will use the network's virtual set technology to take viewers through the Capitol with visual representations of Congress and the distribution of power the elections bring. (No word if any virtual goats will join Foreman.)