NBC's 'Decision 2014' election set debuts on 'Meet the Press'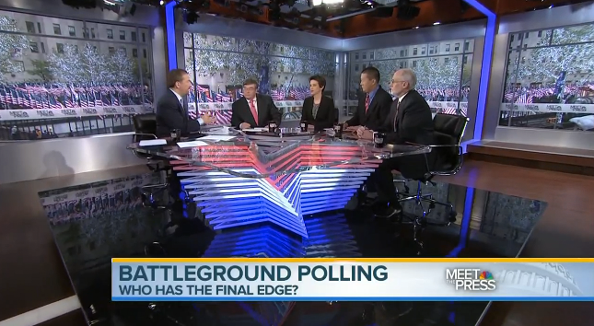 NBC News' "Meet the Press" originated from Studio 3B, normally the home of "NBC Nightly News," in NBC's New York City Rockefeller Center studios this Sunday and along with it came a peek at the network's election coverage set and graphics.
The centerpiece of the new look is a rather eye-catching star-shaped anchor desk wrapped in narrow red, white and blue tubes of light — a look that draws inevitable comparisons to the neon lights of the Las Vegas Strip. The desk was designed by Clickspring Design and fabricated by blackwalnut.
The arrangement of the lights is slightly "twisted" from the floor to under the surface of the desk, which adds the the vibrant, active look of the desk.
The desk, which has a glass top, can comfortably seat at least five people, and is situated in the same corner of the the studio "Nightly News" anchor Brian Williams' anchor desk normally occupies. Williams' desk was moved to this corner, previously used primarily for the now-canceled "Rock Center" in September as part of a set rework for "Nightly."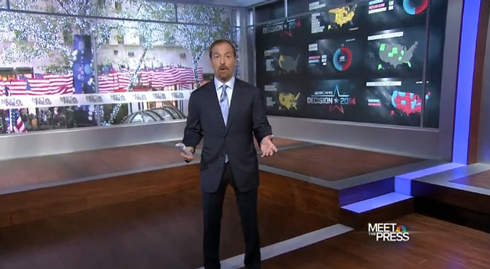 Like "Nightly," "Meet the Press" utilizes the studios rear projection screens to showcase a patriotic loop of America flags fluttering in the wind on Rockefeller Plaza with the show's logo repeating on a faux frosted band. The network also alternated between using the video walls to project dark charts and graphs and an animated flag loop.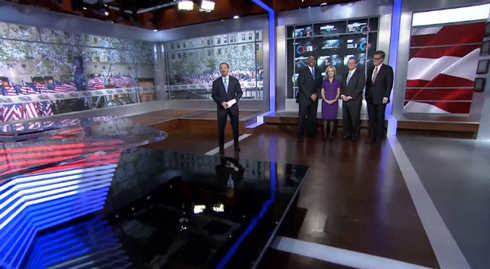 During the "Meet the Press" open, a stedicam shot that showed the day's panel members standing to one side was used, with the view quickly shifting to just host Chuck Todd, who was standing off to one side of the group, as shown above.
The star shape selected for the anchor desk can also be found in the network's "Decision 2014" logo, which was revamped slightly this year.
In addition to the anchor desk, NBC also made use of a large movable screen with an etched glass frame.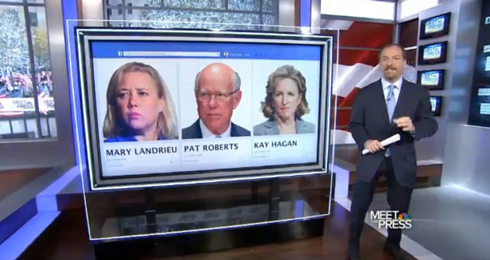 NBC previously originated its election coverage from Studio 8G, home of "Football Night in America" since 2006, but needed to create a new base this year after that show moved to NBC Sports' facility in Connecticut and the studio was converted to the home of "Late Night with Seth Meyers."
During Sunday's "Meet the Press," viewers also saw what is presumably the new graphics package for NBC's election coverage.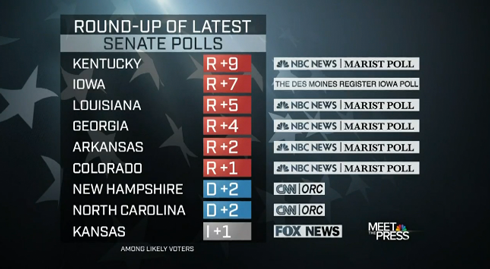 The package features a dark, steel-blue background with rippled (yet not animated) stars and fronted with clean typography. The new look sheds the animated box look and feel in favor of more simple, subtle semitransparent backgrounds and colored boxes.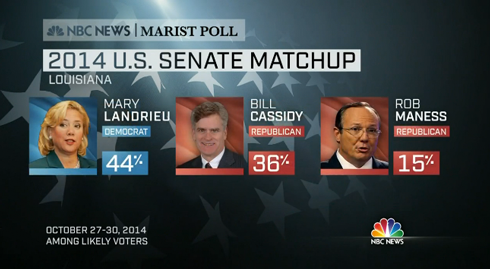 Also removed, at least from the graphics shown Sunday, is the heavy use of animation. NBC had previously worked a substantial amount of moving and sliding elements that "moved" the viewer through data, candidate photos and other charts and graphs.