'Today' converts small side room to studio for 34 hour forecast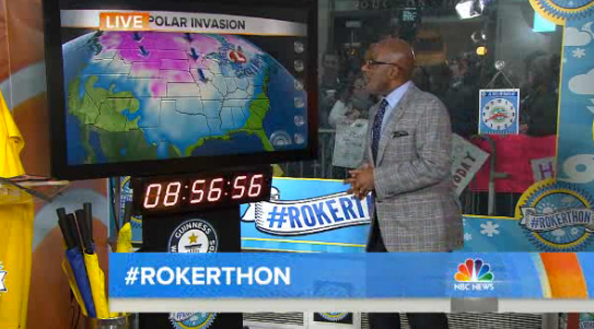 One of NBC News' big sweeps stunts is a (hopefully) recording breaking 34-hour long weather forecast presented by Al Roker.
For the forecast, the "Today Show" converted a small room off of the Studio 1A's Orange Room into a studio for Roker.
The room has a narrow wall of windows that overlooks Rockefeller Plaza, allowing the show's trademark crowd to be seen (though not very well at times due to some lighting issues).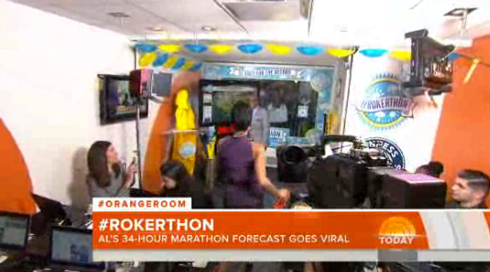 Around this window, printed graphics featuring the Rokerthon (as "Today" is calling it) branding.
A single camera and temporary lighting were adding to the area, along with a freestanding flat screen for weather maps and graphics. Beneath the monitor, a digital clock counts out the elapsed time above the Guinness Book of World Records and Rokerthon logo.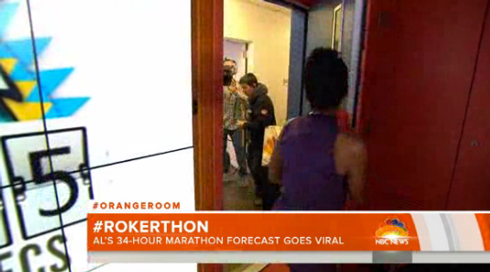 During a "Today" segment Thursday, anchor Tamron Hall made a mad dash from the Orange Room's back entrance, which is often visible on air, through a narrow hallway and a crowd of crew members to join Roker. Roker also got caught relieving himself on air during the event thanks to a hot mic.