Miami forecaster uses set's video wall to propose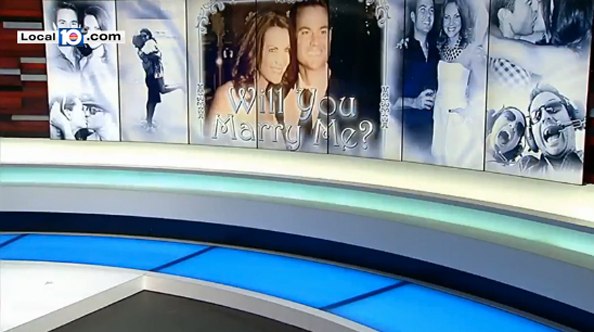 WPLG-TV, the CBS affiliate in Miami, found a way to incorporate its set into a marriage proposal.
While anchor Jacey Birch was prepping for what she thought was a satellite interview about pets and holidays, her boyfriend and fellow station employee meteorologist Trent Aric, appeared in the double box from a control room.
He proceeded to make small talk to the confused Birch until Aric told her to turn to her left, when a technician behind him threw the switch to feed a huge "Will you marry me?" graphic up on the studio's seven-panel video wall.
The graphic also incorporated photos from the couple's dating.
"Oh my god, that's beautiful," said Birch upon seeing it, before Aric, in true TV fashion, tossed to a video package telling the couple's story.
Aric then joined Birch in the studio and did the traditional on-one-knee proposal in front of the video wall.
[field name=iframe]
The set where the proposal took place was installed earlier this year replacing the previous "stained glass set" installed in 2009 and designed by FX Design Group. The station moved to a new building at the same time.