Charleston station 'MacGyvers' forecast after computer crash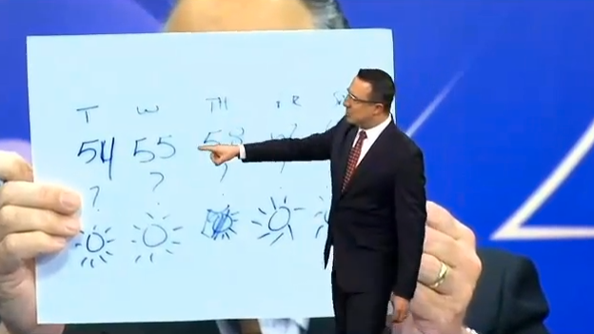 A Charleston station used some quick thinking and low tech materials to save its weather forecast.
Down at WCIV-TV, the ABC affiliate in Charleston, S.C., a computer glitch caused the station's weather system to go offline before Dave Williams' forecast.
Left with no other options, anchor Dean Stevens scratched out a five day board on the back of the script. He held it up to a camera aimed at him and the control room keyed the feed behind Williams.
The station also still had access to a single computer-generated weather map, that was apparently stored in a system that remained accessible.
As an added bonus, WCIV-TV, may have finally cracked how to create a truly interactive newscast. As Williams gave his forecast, he would give Stevens direction on the conditions and temperatures and Stevens would update his drawings in real time.
Watch the entire forecast here:
[field name=iframe]
Hopefully next time the computer crashes, WCIV-TV will at least give Stevens a white board to hold up.