'World News' uses main studio as weather wall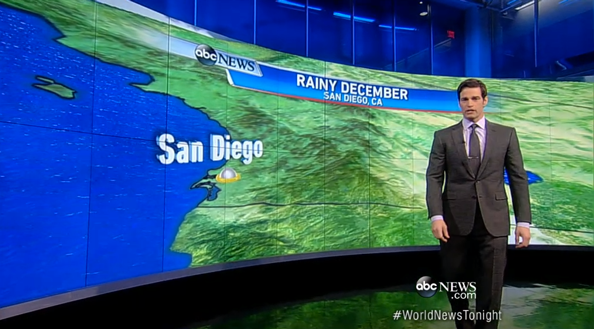 "World News Tonight" has found another use for its new curved video wall — a standup location for weather reports.
The network was covering the severe storms hitting the West Coast and had meteorologist Rob Marciano stationed on the "World News Tonight" set in New York.
Anchor David Muir, meanwhile, was in Washington, D.C., so the set wasn't being actively used for anything else.
Marciano was shot off-axis so the anchor desk that sits in front of the wall wasn't visible, while the large expanse of video wall gave a sweeping, crisp view of weather graphics.
Above the video wall, some structural elements of the studio was visible, adding to the sense of depth and scale the combination of shooting angle and curved nature of the video wall created.
The show also uses the video wall as an alternate way to present fullscreen video, charts and graphs as well as a sponsor billboards.
The new video wall, which is composed of vertical low profile flat panels, was installed in August shortly before anchor Diane Sawyer exited and Muir took over.