'Late Late Show' takes over studio of 'CBS This Morning'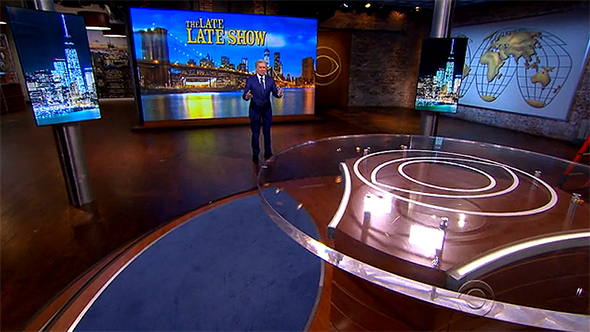 Regis Philbin is guest hosting "The Late Late Show" this week from New York, as the show continues to cycle through hosts after Craig Ferguson's departure in December.
While the other hosts have used the shows main Los Angeles digs, Philbin is hosting his stint from Studio 57 at the CBS Broadcast Center, which is normally home to "CBS This Morning" and "Up to the Minute."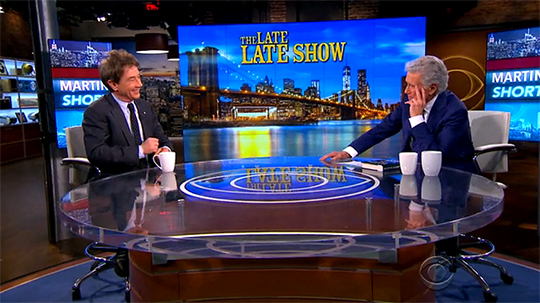 "I asked them for a fancy new set, and CBS said no! Just sit at Charlie Rose's desk and try not to scuff it up. He gets very annoyed about that," Philbin joked during his monologue. "What about an audience? No audience for you!"
The show had a very different vibe from normal late night shows, instead feeling like an episode of "Charlie Rose" on Bloomberg. Philbin sat in a quiet studio and interviewed a few celebrities, there was no laugh track, just a circle table and a bunch of steadicam shots.
The shows logo was projected on the floor, with branding in the monitors around the studio. The Jack Morton PDG designed set had the desk wings removed, creating a more intimate space for interviews.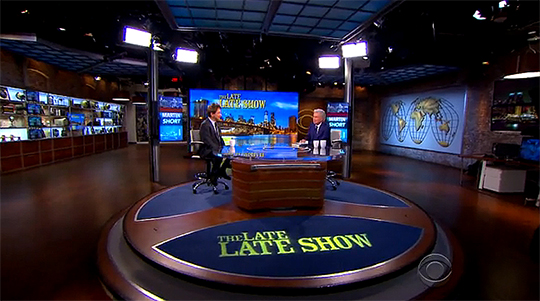 Philbin is no stranger to talk shows, previously hosting "Live with Regis and Kelly."  Brit James Corden will officially take over the show in March, during the NCAA Basketball Tournament.