Omaha station gets slogan happy with typo-ridden tagline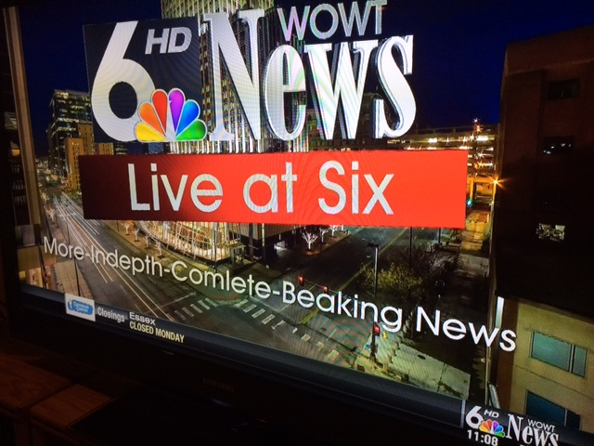 The folks at WOWT-TV went a bit slogan happy and, in all the excitement, manage to ruin their creation it with a bunch of typos.
A reader sent us a photo, first seen on FTVLive, of a promo the NBC affiliate in Omaha ran Super Bowl Sunday.
In it, under the station's logo, is a line reading: "More-Indepth-Comlete-Beaking News" (sic).
Not only did the station manage to misspell "complete" and "breaking," but the whole tagline seems like someone just threw a bunch of words together and slapped it into the promo.
It also manages to really ladle on the superlatives heavily — not only is 6 News offer breaking (or beaking as it says) news coverage, it offers more of it, in a more indepth way AND in a more complete (or comlete) way.
We're also not entirely sure why three hyphens were necessary.
What's next? "Where the News Comes First-est? Or maybe "More Indepth Breaking News Coverage You Can Count On Completely All the Time"? Or how about "Live-er. Local-er. Latebreaking-er."
Want to have a little fun with your favorite news slogan? WOWT-ify it in the comments.