'Morning Joe' shakes up format with 'Mika'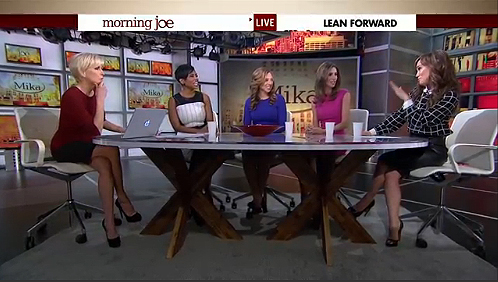 Just a day after The Wrap's article on MSNBC's upcoming changes, "Morning Joe" rolled out a softer final block.
Branded as "Mika," the format is very similar to "The View" or "The Talk," featuring a large wooden table with multiple guests gathered around for conversation.
Host Mika Brzezinski has done interviews during the final segments for a while, but it's never had its own unique flair.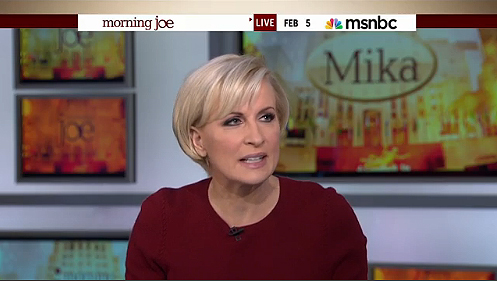 New graphics appeared in the various monitors of the studio with a new "Mika" logo and yellow and orange color palette, though this logo does not appear anywhere else and the program remains branded "Morning Joe" in the top bar.
The graphics also incorporate imagery of the famous statue of Prometheus found near the Rockefeller Center ice skating rink, including a stylized version of this view in the two-story "window" on the set.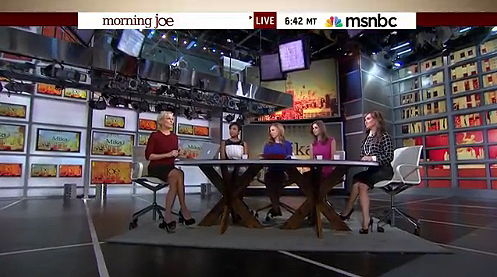 The table, which sports two X-shaped sets of legs looks oddly similar to the one found at "The Talk" (though this one has only one "X"). Softer, off-white office-style chairs differ from the more elegant ones found on daytime talkers (except for the ones for Whoopi Goldberg's bad back over at "The View").
The change is part of a larger revamp that is likely coming to the network, but does MSNBC need another panel show? Will Mika be given her own hour of "Morning Joe," similar to how the fourth hour of "Today" has its own hosts and branding?
Joe Scarborough was not far away during the block, chiming in from the control room during the segment.
A representative from MSNBC did not return our request for comment on the changes.