Kentucky station airs 'wanted' mug of 'Frozen' character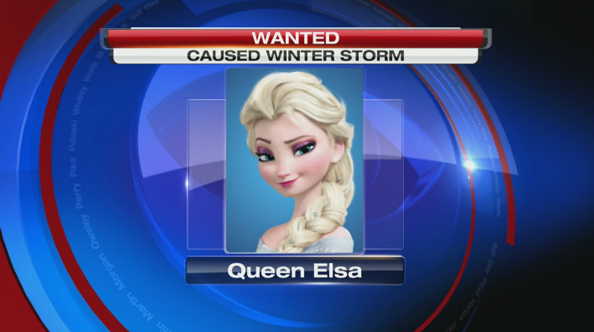 The folks in the small, rural town of Harlan, Ken. are fed up with winter and one TV station was more than happy to help get the word out about the "fugitive" responsible for it.
The police in Harlan, posted an announcement on its Facebook page that it had "issued a warrant" for Elsa, a character from the wildly popular Disney animated flick "Frozen."
So, CBS affiliate WYMT-TV loaded up the "mug shot" of Elsa,  into its graphics system and aired it just like it would any other criminal.
Set against the station's normal graphics package, complete with the text "Wanted: Caused Winter Storm" running along top.
The police's post, meanwhile, did also have a serious side — the department leveraged the original post to remind residents to be careful during the storm.