Top o' the morning: 'Today' L3 slips into leprechaun lingo?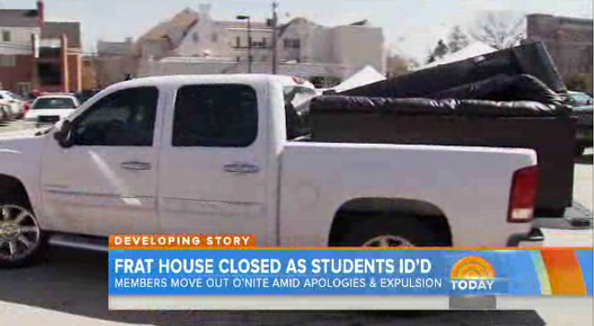 O' "Today," how lazy or trendy (or Irish?) are you trying to be?
During its coverage of the University of Oklahoma scandal involving members of the Sigma Alpha Epsilon fraternity caught of video yelling a racist chant, the "Today Show" aired a lower third banner that gave some additional details on the story — but apparently too many details.
The show didn't have room for the words "Overnight" or "Identified" so relied on the rather odd contractions of "O'NIGHT" and "ID'D."
While "ID'D" is arguably more commonplace in our everyday language ("I was so happy I didn't get ID'd by that waitress"), it still comes across as looking rather odd, especially when it's shown in all caps as it was on "Today."
But "O'NIGHT" is a different case — and either a case of lazy editing, an attempt to be hip or — perhaps — a bit of early St. Patrick's Day spirit?
One could argue that the word "overnight" could have been removed entirely from the line and the banner still would have gotten the same point across — though we wonder if this is part of morning show's obsession with constantly emphasizing o'night … err … overnight … developments and "new this morning" taglines.