Devlin tours Omaha train-to-TV-station renovation progress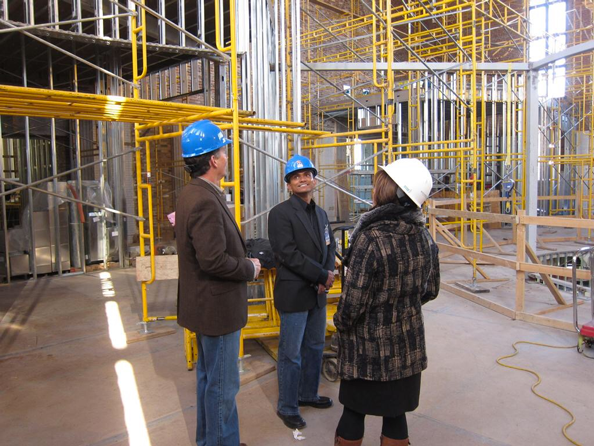 Set design firm Devlin Design Group paid a visit to the Burlington Station in Omaha, checking up on the progress of turning an 80-year-old building into a state-of-the-art television station for KETV-TV.
Devlin was hired by the Hearst ABC affiliate to help create the station's new news production facilities.
In the photo above, Dan Devlin, left, the owner and chief creative strategist at Devlin Design Group tours the great hall of the building with Kartik Dakshinamoorthy, scenic design director, and Ariel Roblin, KETV-TV's general manager.
KETV-TV announced the purchase of the building and its plans to renovate the historic structure back in 2013 and expects to wrap up work this summer.
The station has opened up the great hall to allow sunlight to stream down three levels, including a view down into what will become the newsroom. Construction crews are also removing the parking structure next to the building and creating a pedestrian bridge that connects to a nearby surface lot.
In addition, expert preservationists have been brought in to restore the lobby's ornate ceiling and tilework.