Q&A: Scecon helps Liberty University with flexible sports set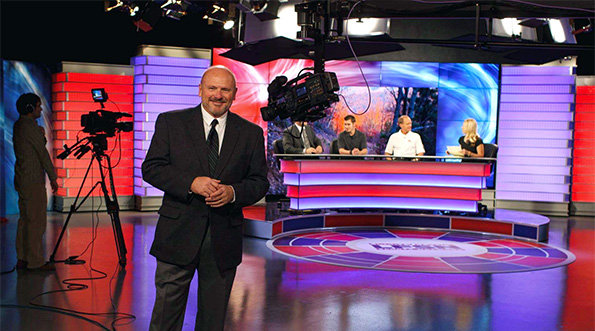 Subscribe to NewscastStudio's newsletter for the latest in broadcast design, technology and engineering delivered to your inbox.
Scecon, a Virginia based set design-build firm, recently helped Liberty University transform its sports network with a new flexible space. Natalie Schaubach of Scecon recently spoke with us about the project.
Talk a little about the background of the project?
It's not widely known, but Liberty University is the nation's largest private, nonprofit university. Total enrollment exceeds 100,000.
They have 20 NCAA Division I sports, and needed a set to showcase those sports through a variety of shows. These shows reach as many as 90 million households in the US. When they came to us, the school was gaining serious momentum on hiring serious talent, upgrading to HD and fostering a unique student-professional learning environment to rival the best schools.
What were the client's specifications / needs?
This set had to be flexible and accommodate different shows and segments, while cohesively pointing to Liberty University. They needed to switch out the brand and look of the show at a moment's notice. It also had to be accessible enough for the students on staff to make changes easily.
What makes this set unique?
Although Liberty Flames Sports Network (LFSN) is a full-production operating network run by professionals, students are able to access the equipment and learn how productions work. They are taught everything from wrapping cable and operating cameras to control room jobs like directing and producing. Digital Media students can see their work on daily broadcasts.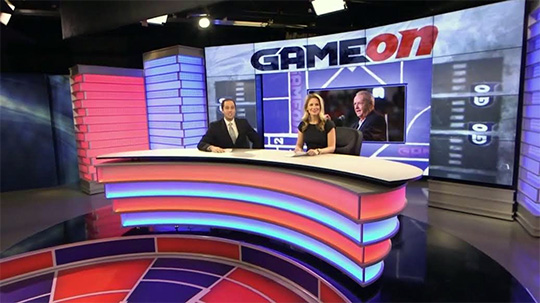 How did you capture school spirit in the design?
In addition to logo details on the desk and a floor graphic, the monitor surround and LED wall let the branded graphics really sing.
In the beginning stages of the design, the central LED wall was gone, with the intention of seeing beyond the set to the football field and stadium behind. This could of course be a possibility in the future.
How did you prepare for the multiple productions the set would have to handle?
The set features risers internally lighted with RGB LEDs that are normally set on the school's traditional red and blue colors.
The LED wall and surrounding monitor bank also play a big role in branding the set. But all of these elements can transform their hue and, in theory, give the set a radically different look at a moment's notice, should they want that.
Right now, in addition to myriad sports broadcasts they have a seated interview segment as well as a standing talk-show format.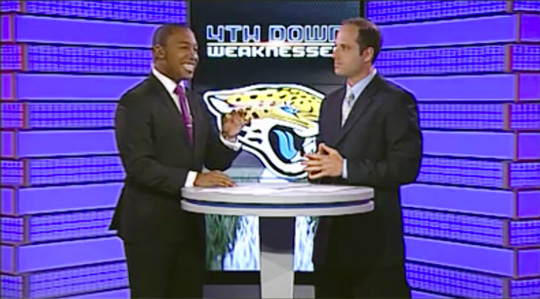 What technology was used, for both design and implementation?
We used a standard modelling process for 3DS Max with various after effects for renders.
The LED video wall was surrounded by a portal of ultra-thin bezel NEC monitors.
We used LED lighting, and essentially turned each scenic element into an RGB lighting fixture. This gave the lighting director the ability to create many separate looks for the set to complement the visuals on the LED wall and monitor portal. They would change the look merely by changing preset that the Lighting Director had pre-programmed.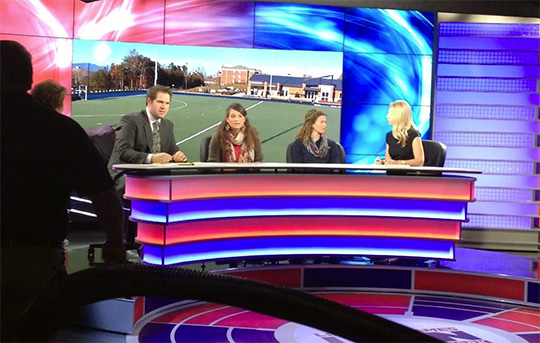 How does this set help give the school a recruiting advantage?
This set gives Liberty a big advantage on several fronts.
It obviously makes their sports programs look more appealing and high-profile. It highlights the great kids they've got playing for them – special segments feature stories on athletes overcoming personal challenges and reaching out to the community. It also helps them recruit students who are interested in the production end of things.
Liberty is now one of the few schools that can offer practical, high-stakes work experience in the field, allowing students to transition directly into the working world. Also, it helps that LFSN's reach is now larger than the top 10 Designated Market Areas (DMAs) in the country combined.
What as reaction to the project been so far?
As their Senior Producer Andy Freeman said: "We were seeking a state-of-the-art television set [that] could be flexible to take on the feel of any international location or visually portray a traditional television environment. It had to be versatile enough to handle straight shoots or incorporate a live audience. Scecon met our needs beautifully."
The latest in design, production and engineering
Subscribe to NewscastStudio for the latest delivered straight to your inbox.