NYC CW debuts simple set with eye-catching anchor desk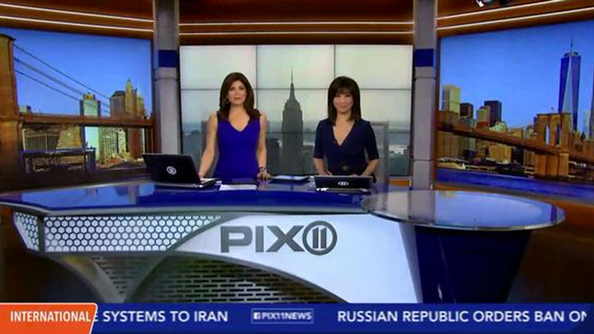 New York City's WPIX-TV, the CW affiliate, debuted a new set and graphics during its 5 p.m. newscast Monday.
The new set, designed by Studio A Designs, features a simple, three-walled anchor area with a 3×3 monitor array camera center, as shown in this screen grab from NewYorkNewsCoverage on Twitter.
Two nearly floor to ceiling backilt graphics flank this, each showing a section of the Manhattan skyline and the Brooklyn Bridge.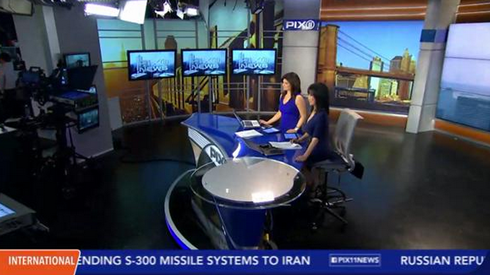 The set's anchor desk is fronted with sweeping pieces of metal mesh and backlit plexi and topped with a blue curved surface. A circular piece of glass sits on the camera right side of the desk for standups.
Off to one side is a small standup area backed with another floor-to-ceiling graphic with metal framework and three flat screens.
Meanwhile, the station is using bold orange and blue tones for its new graphics, accented by rounded edges and metallic-toned accents.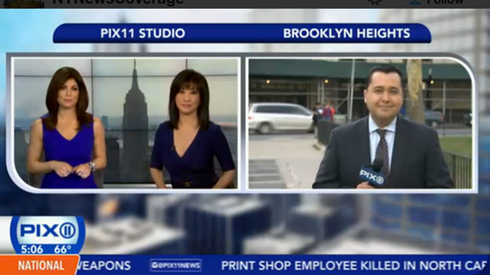 A bug in the lower left side of the screen, above a ticker, can't quite decide if it's a rectangle or circle (the circle shape borrowed from the station's logo).
The new look is simple, if not underwhelming.
It's a bit disconcerting, especially in wide shots, to see so many different photographic and live feeds of different angles of the New York City skyline — in the examples shown here, you go from one side of the Brooklyn Bridge, to a skyline anchored by the Empire State Building to another (and slightly incongruous) view of the bridge.
Perhaps the most eye-catching part of the set is the desk, which uses a mix of materials and interesting angles to create a unique look — it would have been nice to see some of those elements on the set itself.
The circular glass piece that's used frequently by the forecaster when he or she joins the anchors, is a nice touch as well.