One big 'Mass': 3 stations merging news operations under one name


Meredith Corporation is "rebranding" its three stations in Springfield, Mass. under the single umbrella name of "Western Mass News."
Meredith, which acquired the market's ABC affiliate WGGB-TV, along with its digital subchannel that serves as a Fox affiliate, six months ago from Gormally Broadcasting, will simulcast the same content on both stations as well as WSHM-LD, a low power CBS affiliate.
However, no newscast will be shown on all three stations at any one time, according to the schedule released by the stations and shown below, but many timeslots see two of the stations carrying the same newscast.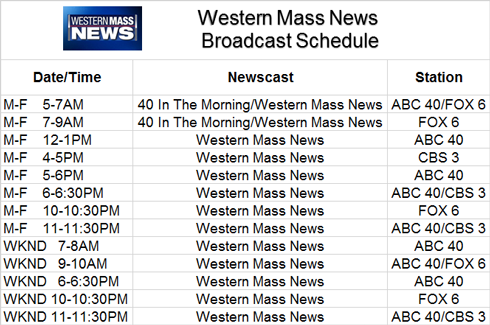 The move calls for WSHM-LD to drop its "CBS 3 Springfield" news branding in favor of the newly concocted "Western Mass News." Likewise, WGGB-TV will drop its "ABC 40 News" name and the "Fox 6 News" name will be retired as well.
That said, a portion of the co-produced morning newscast will use the "40 In the Morning" name along with "Western Mass News."
A new logo has been introduced as well — with the words "Western Mass" appearing in a condensed typeface above a bold "News" and separated by a thin red line. A dark blue box frames both lines, which is capped on either end by a metallic-looking vertical bar.
The stations have already launched a combined website at westernmassnews.com and have been heavily touting the advantages the changes will bring the market — including a combined, larger news team.
Of course, the reality of cost savings to the company is being downplayed.
The new name, meanwhile, seems to be a pretty veiled attempt to be hip and "sound like one of the locals," when in reality it feels like an awkward attempt to avoid "offending" any one community by being overly generic.
We also can't help but think the name sounds a bit like what you might call some kind of cancerous tumor — or maybe an iceberg or garbage pile?