CNN customizes politics section header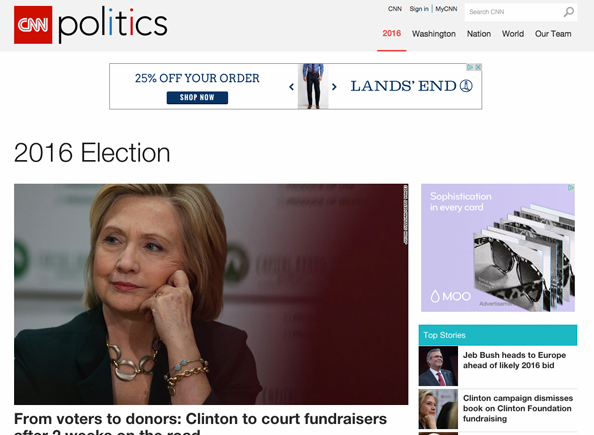 CNN.com has redesigned the header of its politics section, following what appears to be a trend of separating out political news into a semi-standalone brand.
This move follows Bloomberg's creation of a politics section with unique design in October.
The new CNN politics section includes a simplified fixed header that breaks down content into the categories of 2016, Washington, D.C., national and world as well as a separate section to showcase the CNN political team.
The header also includes the CNN logo in a red box flanked by an all-lowercase "politics" in a light typeface. The two "I"s  in the world are colored red and blue, perhaps a subtle nod to both U.S. flag colors and a way to put emphasize on the personal nature of politics and, especially, elections as well as the network's iReport initiative.
Meanwhile, boxes of content sport a teal colored header bar, a choice that looks a bit out of place but perhaps is an effort to avoid any direct connotation with "red" or "blue" political leanings.
In addition, to this section, CNN's business news section, branded under the "Money" name, also has its own look and feel. The Money section, meanwhile, gets special treatment with a blue button in the main CNN navigation, whereas the politics section doesn't — at least not yet.