S.C. station brightens up with new look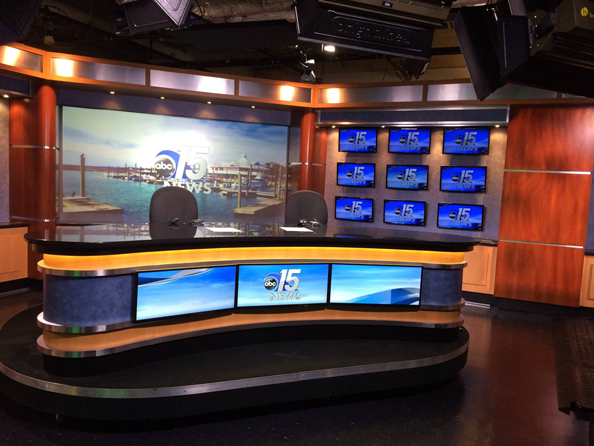 WPDE-TV, Sinclair's ABC affiliate in Myrtle Beach, has debuted an updated set and new branding, logo and graphics just in time for sweeps.
The station shed its  "NewsChannel 15" branding in favor of "ABC 15 News" as well as an upgrade to HD.
The new logo drops the dated red and gold bands and "5" with the ABC logo integrated in to it in favor of a narrower, sans serif typeface. The wave shape that was previously integrated into the "15" is now behind the numbers and arcs over the ABC globe, which is placed to the left.
In the studio, the station updated its rather drab background in favor of brighter look. The monitor walls on the left and right side of the set have been spruced up with bigger panels and the elimination of the frosted panels in front, another move that helped brighten the look of the set.
In addition, three panels have been mounted to the front of the anchor desk, which was previously bare.
The station's new graphics move from an odd mix of blue and purple to brighter blues and whites.
The new look definitely helps reinvigorate the station's look. While the new logo does incorporate the old wave shape, the old logo's basic shape and concept was unique and perhaps could have been adapted in a way that would have allowed the station to keep that part of its branding more intact.
Along the same lines, the subtle blending and splash of light behind the ghosted logo on the main anchor background was another unique look that perhaps could have been incorporated into the new backdrop, rather than just slapping the logo int he middle of a shoreline view.