Idaho station uses Rock 'em Sock 'em Robots for 'fight of the century' coverage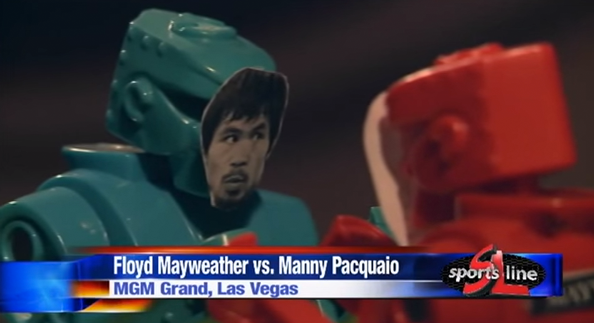 How do you show highlights from the "fight of the century" when it's still going on and footage from the fight is embargoed? Dig up your old Rock 'em Sock 'em Robots, of course!
That's what KIFI-TV in Idaho Falls, Idaho did when its sportscast needed to cover the event but couldn't due to pay per view provider restrictions, use actual footage from the fight.
Instead, the station taped cutouts of Floyd Mayweather Jr. and Manny Pacquiao to Rock 'em Sock 'em Robots toys and had them duke it out for the camera. The scene was carefully lit (no doubt much better lighting than the harsh illumination at the Vegas arena) and included multiple angles of the toys fighting in various poses.
Perhaps distracted by the fun of playing with a favorite childhood toy, the station managed to misspell Pacquiao's last name in both the on air lower third and title of the video on YouTube:
This isn't the first time toys have been used in news coverage. Back in 2012, Cleveland's WOIO-TV used puppets to reenact trial scenes and an Australian channel used Lego minifigures to re-enact an Olympic race it couldn't show real footage of due to restrictions. CNN has also been known to pull out toy planes for its coverage.