ABC ruins rare footage with animated drone bug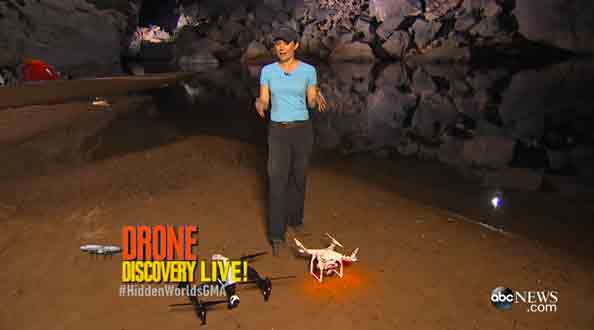 ABC "Good Morning America" meteorologist Ginger Zee traveled to a remote jungle in Vietnam to show off a "hidden world" and, in true sweeps fashion, managed to incorporate one of TV news' newest obsessions, drones, all while ruining some pretty impressive footage with annoying branding.
The segment, which aired Wednesday, footage extensive footage shot using a variety of drones, including from the grotto that, as Zee and the "GMA" crew pointed out — has been visited by fewer humans than the surface of the moon.
Zee and a crew traveled deep into a Vietnamese jungle to explore what it dubbed a "mountain within in a cave."
During the segment, the video camera-equipped drones were used to show viewers surreal, sometimes misty footage of the seems ripped from a fantasy or science fiction movie.
Although the footage was stunning, the beauty was often ruined by an incredibly annoying animated drone that keep "flying" around the equally annoying segment logo on the lower left.
At times, it almost seemed like the animated drone was part of the scene being played out on screen.
[field name=iframe]
Given that it's sweeps, we're just glad Zee didn't trip over some neglected pot holes in that grotto to find Chris Hansen in a swivel chair warning her about phone scams (all being filmed by a drone, of course). Plus, although the "Drone Discovery Live" and "Hidden Worlds" branding was a bit over the top, at least "ABC News Investigates" wasn't tacked on.
And, thanks to the magic of television, Zee will also miraculously zoom back from Vietnam to appear on "Jeopardy!" tonight.