'Late Show' unveils post-Letterman logo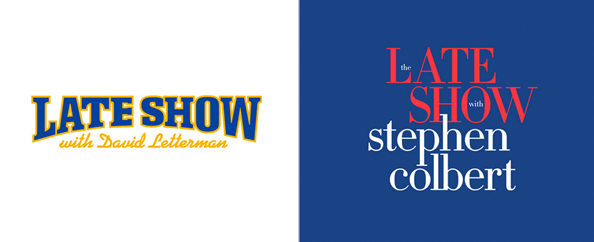 CBS's "The Late Show" has unveiled its new logo for when former Comedy Central "Colbert Report" host Stephen Colbert takes over this fall.
The new logo sheds the heavy, arched typography and script font in favor of a thinner, more elegant look.
In the new logo, the show name appears in all capital letters with the word "the" placed in the negative space to the right of the "L." Similarly, the "with" is placed inside of the "O."
Colbert's name appears below in all lowercase with the higher part of the "h" neatly tucked into the empty space between the "feet" of the "H."
The logo's lowercase "t" also has a unique top — with a sort of curved notch taken out of it.
The resulting arrangement of text gives the logo strong vertical lines, especially with how the right side of the "H" aligns with the "T" and how the "ph" in Stephen and "lb" in Colbert are arranged.
Some weaker points of the new logo, however, are that the host's name seems to overpower the show title (though that may have been a purposeful decision) and there's an awkward bit of trapped negative space above the "bert" in Colbert.


Interestingly, the logo's font and general use of carefully placed typography bears some resemblance to the "Tonight Show" logo used in Jay Leno's second hosting stint.