NBC Sports to launch new website Monday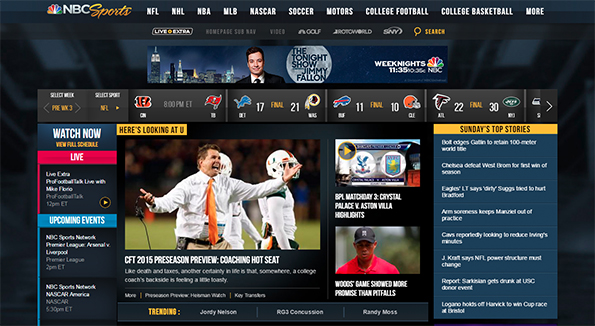 NBC Sports will take the wraps off a major web upgrade Monday, as the NFL and college football seasons kick off.
The new site aims to provide a streamlined experience that better integrates live and short-form video, along with player news.
"NBCSports.com was re-designed with the single purpose of providing sports fans with easier access to the content that distinguishes NBCSports.com from other sports sites, particularly live video and player news," said Rick Cordella of NBC Sports Group.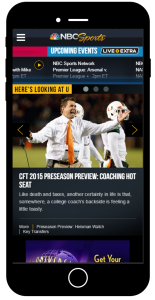 NBCSports.com streams 2,700 live events annual, making live video a key feature of the redesign across NBC Sports' digital products.
"From the more intuitive NBC Sports Live Extra elements to player news integration and an adaptable layout for multiple devices, NBCSports.com will be more equipped to serve an increasingly mobile sports fan," said Cordella.
The site will also include Rotoworld's player news, such as injury reports and transactions, better serving fantasy sports enthusiasts.
New features include:
An adaptable, responsive layout for four different screen sizes (desktop, tablet portrait and landscape, and mobile devices) for an optimal experience for all devices.
A consistent look and feel across the portfolio of NBC Sports web properties, merging NBCSports.com and SportsTalk sites into one seamless experience.
NBC Sports Live Extra will be prominently featured within the new site experience, which incorporates a site-wide live streaming schedule, direct links, and a TV listings component with fixed scrolling position.
The most up-to-date player news including injury reports, transactions, and stats from Rotoworld, which will be accessible in a dedicated team/player news section and integrated throughout many sections across the site.
A video discovery landing page, where users can access both NBC Sports Live Extra content and short-form, on-demand video in specially curated categories.
The site will automatically register a user's home market to feature a link to the appropriate NBC Sports Regional Network site in the top navigation panel, including local NBA live streaming on NBC Sports Regional Networks, which are featured in the "Live" and "Upcoming" events on NBC Sports Live Extra.
A new format that enables layout flexibility for big event homepage takeovers in order to promote special content, live events, and breaking news on the site.
Articles feature infinite scrolling and a "story explorer" feature that allows users to quickly browse content.
Media gallery overlays for photo slideshows and videos that open when clicked from the homepage or sport sections, which will allow users to maintain their place on the homepage or specific sports section and continue to engage with site after closing the video or gallery.
A scoreboard ticker with team- and sport-focused imagery, optimized across desktop and tablets.