Colbert's 'Late Show' debuts with grand scale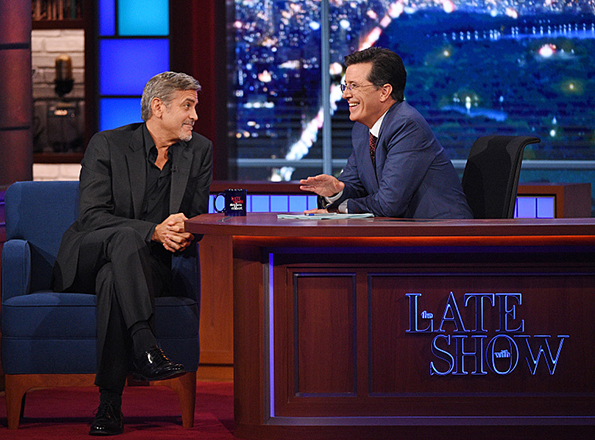 Former Comedy Central "Daily Show" and "Colbert Report" host Stephen Colbert (and not his alter ego, mind you) debuted as the new host of CBS's "Late Show" from a brand new set at the renovated Ed Sullivan Theatre in New York City.
Designed by Jack Morton PDG, the set design captures Colbert's personality while fitting the late night genre. Knick-knacks from the past appear on the set, along with flexible elements that can change based on the guest or segment.
The general layout of the set has been flipped from Letterman era — with the host entry and monologue area now on the right side of the stage, with the interview area on the opposite. With the new layout, the set seems larger in scale, which is aided by the many details placed throughout the theatre.
Colbert enters and performs his opening monologue from a gray brick area that has an almost industrial look and feel. Upon entering, a large wall slides down covering the bricks with a cityscape covered by a grid.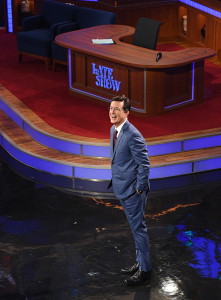 The interview area, meanwhile, is a warmer, more traditional look framed by large backlit color changing panels. The main background in this area is a view of Central Park, but Colbert joked during the show it could be anywhere in the world. Off to one side is a video wall separated from the cityscape by ornate faux stone columns.
Both of these areas are capped with an internally lit header element, which, in turn, has a oversized dimensional version of the show's logo suspended above.
An open metal staircase winds its way to a second level next to the interview area. The second level includes decorative display shelves with items including Captain America's shield and a pennant from MLK's March on Washington.
Above the stage, the theaters dome has been upgraded with a projection system, allowing anything to appear.
Notably the new set does not utilize a 3D model cityscape like the set it replaced.