Sam2 expands Black History Month documentary for local stations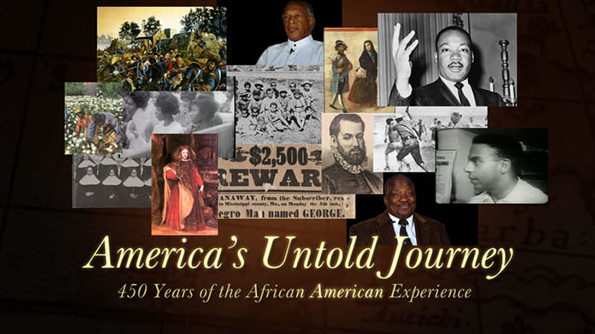 Building on the collaborations 2015 documentary, local TV stations will have the opportunity to present a newly expanded 60-minute edition of "America's Untold Journey – 450 Years of the African-American Experience."
Produced by Project 360 Media and Sam2, a division of Stephen Arnold Music, "America's Untold Journey" has been launched following the overwhelmingly positive response to the half-hour show that aired in February 2015. Hosted by Jason Allen Carvel ("The Blacklist," "BlindSpot") "America's Untold Journey" goes deeper into the never-before-told true story about the role that free blacks played in the birth of America.
"'America's Untold Journey' allows local stations to delve further into this extremely inspirational story," said Gordon Smith, co-founder of Sam2. "It reveals a vital chapter of American history that was unknown to so many and struck a chord with viewers everywhere. The newly expanded 60-minute format for 2016 is equally surprising, and even more uplifting."
"America's Untold Journey" chronicles the 450-year arc of continuous African American history beginning in 1565 in Spanish Florida and continuing to the present day.
The story reveals startling untold facts about the importance of African-American involvement in the nation's creation. Interviews with experts and vivid imagery combine to shed a fascinating new light on the role that they and their ancestors played in American history — and ultimately the passing of the 1964 Civil Rights Act.
Large Reach
Over 100 stations picked up and aired the original edition of the show for Black History Month in February 2015.
The documentary special's debut attracted large viewing audiences, as well as inspiring community events and education nationwide: It was second in its time period in Nashville, Jacksonville, and Indianapolis, with similarly strong showings in several other markets. "Journey" was also donated to more than 250 local school systems airing the show, celebrated with an Imax screening in Peoria, IL, and more events that brought people together.   
Airing Options
"America's Untold Journey" can be presented as a full 60-minute version, as well as in five two-minute segments for playing on the local news. Five 45-second news segments are also available. Designed with multi-format flexibility, it can be played on-air, on-line, or in-school.
In addition they've created a new for 2016 is a complete curriculum guide for local schools.
Available for licensing to local TV stations nationwide as a market exclusive, "America's Untold Journey" is being offered as a 50/50 barter split. Providing an engaging new look at how America was shaped, the documentary is ideal for sponsorship during Black History Month. In addition, "America's Untold Journey" can be given to local schools by the presenting sponsor and TV station during Black History Month for use in their classrooms.
Background
Project 360 Media was founded late in 2014 by John Heinen, a 35-year veteran broadcaster and most recently the Co-Founder, President and COO of New Vision Television, which is now part of Media General.
"Our company believes in developing compelling projects for the broadcast and cable marketplace," Heinen said. "We support the efforts of independent writers and producers who want to deliver good quality programming for broadcast distribution, which enhances the programming and community service efforts for local television." 
Project 360 Media reinforces its programming with materials for social media marketing and online expansion of the subject matter for local television and educational materials. These components allow local broadcasters to make an even stronger impact with informational and reality programming. "We are excited to distribute this high quality documentary with SAM2," adds Heinen.
"Sam2 was created to provide local TV stations with innovative, turnkey solutions," said Chad Cook, VP/creative director of Stephen Arnold Music. "'America's Untold Journey' builds on the proven success of this format, creating compelling content that efficiently connects sponsors, stations, and the communities they serve." 
The latest in design, production and engineering
Subscribe to NewscastStudio for the latest delivered straight to your inbox.