Seattle ABC debuts set inspired by heart and soul of 'Emerald City'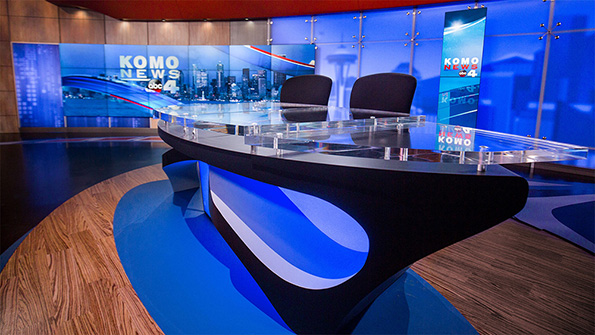 Sinclair Broadcast Group's KOMO-TV debuted its new studio Sunday.
Designed by the team at Devlin Design Group, the set includes dynamic technology with a design that 'captures the heart and soul' of Seattle.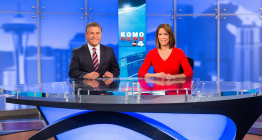 Set Design
KOMO-TV
View a gallery of this project…
"After our input meeting with the management staff at KOMO-TV, we took a stroll down to Victor Steinbrueck Park which has commanding views of Elliot Bay, Pike Place Market and the Seattle skyline," said Dan Devlin of Devlin Design Group. "The sun was shining, the sketchbook was out, and the creative inspiration was instantaneous!"
The set begins with a large color changing backlit skyline camera center, showcasing the water, mountains and forests that surround the city. Through an LED effect, the backdrop projects a pattern dubbed "digital rain," allowing it to change color based on daypart or story.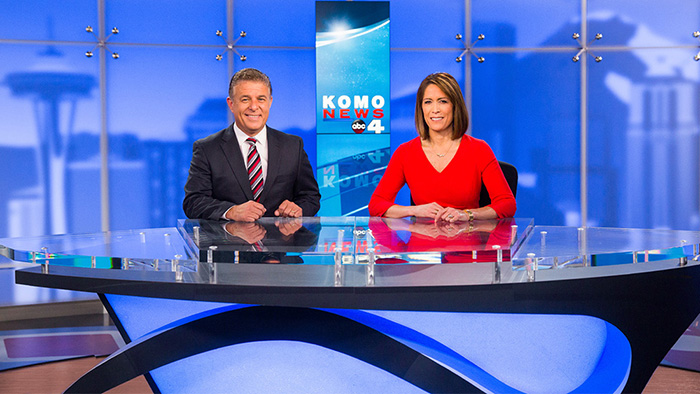 The anchor desk features an organic design that is described by Devlin as a "pod of whales." Behind the desk is a vertical monitor strip that will display various graphics during the broadcast.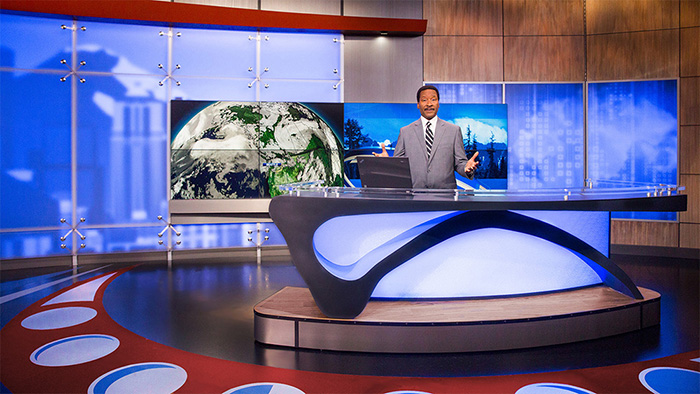 Homebase is flanked by two monitor walls, a 6×3 array on the left and a 4×3 array in the weather center on the right.
"Team DDG captured the Seattle progressive vibe brilliantly by blending a wide sweeping panorama of technology, progressive architecture, and hints of Northwest art culture," said Mark Nadeau, director of TV production at Sinclair Broadcast Group.
This arts culture is captured through the floor graphics that are a nod to Northwest Native American tribal art.
In a unique move, the sets header also serves as a tribute.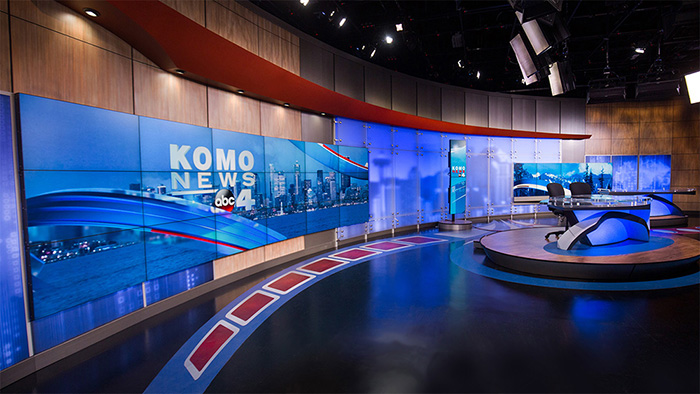 Designed in the shape of a helicopter blade, the element serves as a memorial to longtime KOMO-TV News photographer Bill Strothman, and pilot Gary Pfizner, who lost their lives in a crash yards away from the Space Needle in 2014.