Stephen Arnold Music launches 'Name that News Music' contest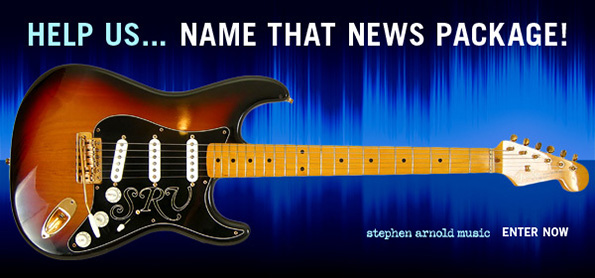 Stephen Arnold Music needs your help naming its next news music package, with a cool prize to one winning entrant.
The bold new package, which has rolled out to stations including WSB-TV and KIRO-TV, delivers emotionally-driven impact with a strong musical signature.
"This is a seriously distinctive news music package. We made it confident and empowered, to provide a truly modern soundtrack for newscasts with depth and intelligence," said Chad Cook, VP of creative services at Stephen Arnold Music.
The entrant who submits the best name will win a beautiful 2014 Fender 60th Anniversary Commemorative American Stratocaster.
This guitar was created by Fender to celebrate the 60th Anniversary of the Stratocaster, and features a special anniversary neck plate.
"This contest is also a fun way to launch our newest package — we're inviting everyone we know to get involved in the naming process. May the best name win," said Cook.
Additionally, all entrants will be placed in a random raffle, with the winner to be awarded a 2000 Fender Artist Series Stevie Ray Vaughan Stratocaster straight from Stephen Arnold's personal collection. Based on Vaughan's favorite guitar, the SRV Strat is made for Texas Blues – Stevie-style – with the same features as his "Number One" Strat, such as three custom Texas Special single coil pickups and his initials on the pick guard.
Enter today on Stephen Arnold Music's blog.